Style: Dancer Felipe Gonzalez Edmiston
On and off the ballroom floor, he loves the classics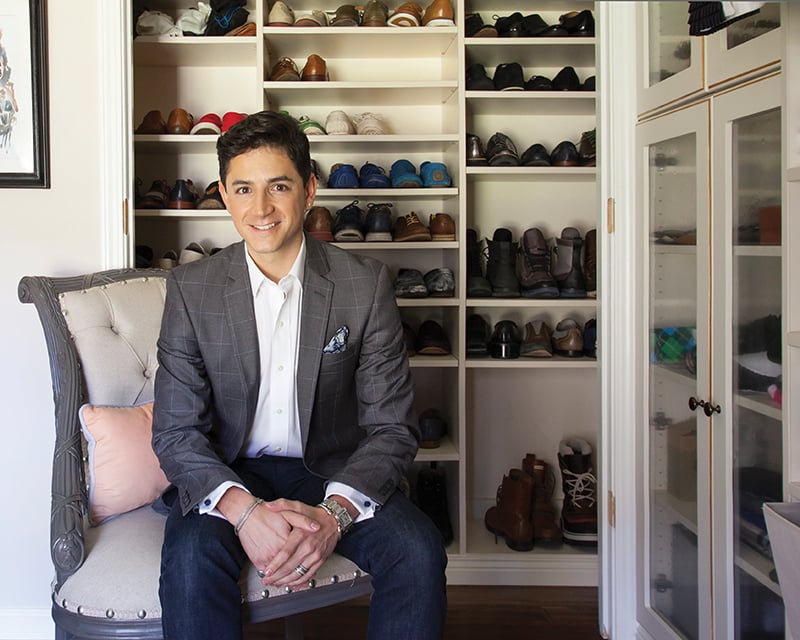 FELIPE GONZALEZ EDMISTON is calm. At 30, the professional dancer has learned to stay composed under pressure; after all, he's been in dance competitions for half of his life. When the curtain goes up at McGlohon Theater at Spirit Square on April 29, Dancing with the Stars of Charlotte will open to a sold-out house. Edmiston co-founded the charity event last year, which raised more than $300,000 for Carolina Breast Friends.
He's had a heart for using dance to help others from a young age. Ten years ago, he founded the Charlotte Youth Dance Foundation to provide affordable dance lessons to kids. "I love the ability to change people's lives through dancing," he says, explaining that it motivates students to take care of their bodies. He's his own best ad: lean, chiseled, with golden skin and waves of dark hair. He has the classic good looks of a model.
In his native Colombia, he saw Latin dancing as a child, but there were no professional dancers in his family. "My brother and I are the ones who broke the mold and made this into a career," he says. When his family moved to Gastonia, he began taking lessons and was soon showing his younger brother the moves. Later, when he enrolled at Queens University to study business, he found his heart was on the dance floor. He transferred to Utah Valley University to earn a degree in ballroom dancing. Some of the friends he made there later danced on ABC's Dancing with the Stars.
Sailing over a polished floor under sparkling chandeliers isn't the only place his style shines. He enjoys interior design, especially period French pieces. Friends tease that his home is like a museum. "I really am an old soul," he says. "I love blazers, bow ties, and a nice pair of loafers."
With an eye for classics, he'll show his style at McGlohon Theater when he dances with amateurs in both acts. Calm and self-possessed, he expects the show to go off without a hitch.
---
Bow Ties // This Carolina blue bow tie is by Bruce Julian, whose cousin, Alexander, designed the UNC basketball uniforms
---
Bags // Edmiston collects bags, including this Louis Vuitton weekender. He added a monogrammed luggage tag for a personal touch.
---
Painting // Edmiston likes art made by his brother-in-law, Edwin Gil, who lives in Charlotte and has works in restaurants such as Blue. This piece hangs in Edmiston's bedroom and is his favorite painting in the house.