Style: Davidson President Carol Quillen
She mixes luxe brands and practical style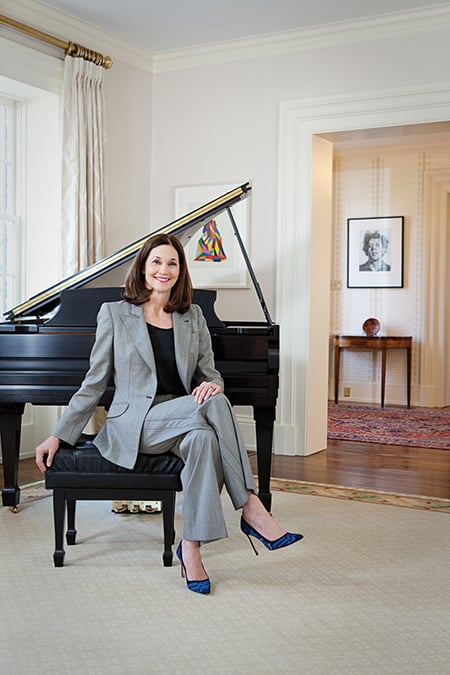 CAROL QUILLEN drops her book bag—an Under Armour sack with a Davidson logo—and settles on the piano bench in her home, the President's House at Davidson College. You'd think a woman wearing four-inch Manolo Blahnik heels would carry a high-end briefcase, but Quillen, 55, is disarmingly practical. The scholar who studied Latin in Rome with the pope's translator while working on her doctorate in European history today prefers to keep life simple.
She smooths out her gray Alexander McQueen jacket and laughs. "They don't match," she quips, referring to her gray pants, which look like they came with the jacket but are made by Escada. "I really try to buy most of my stuff online now—and on sale," she says. Her glossy brown hair swings forward, and her eyes sparkle. It's easy to see why Davidson hired the history professor from Rice University five years ago to become its first female president. She's authentically herself.
Quillen likes taking a risk, especially when the payout is high. Last summer, she stood on a hill in the Swiss Alps, overlooking Interlaken. "George talked me into going paragliding," she says, referring to her husband, George McLendon. "I was terrified because you're really high up, thousands of feet, up in the air …" she pauses as she remembers the view, "… but it was beautiful."
Her work at Davidson is not too different. It requires courage and a high vantage point, one that sees the lay of the land—in this case, the future of private education. Judging from the expression on Quillen's face, one of pride and awe, the ride so far has been beautiful.
---
TRX // A Davidson triathlete introduced Quillen to this go-anywhere exercise kit, a combination of straps, handles, and anchors designed by a Navy SEAL. "It's easy to put up in your house, you can actually travel with it—throw it over a door—and it's resistance training," Quillen says. "You can get an incredible workout with it."
---
BOOKS // Her companions from an early age, books trail Quillen like a family dog. They're always present and begging for attention. The Latin dictionary is a treasured gift from a college professor—Quillen faced the daunting task of learning Latin as a graduate student. Crime fiction piles up in stacks. "Michael Connelly, Harlan Coben, Patricia Cornwell, Sara Paretsky—these people can't write fast enough for me," she says.
---
NEW CASTLE // Quillen grew up in a small Delaware town founded in the 1600s by the Dutch West India Company; each spring she dressed up for New Castle Day to celebrate the town's history. In this photograph for the newspaper, she's the child in the center.
---
AIR FORCE ONE // In 2014 after speaking in Raleigh, President Obama invited Quillen and other educators to join him on Air Force One for a return flight to Washington. The group was headed to the White House for a summit on education. This package of M&Ms was a souvenir from the flight.
---
ART // Amid the warm patina of stately antiques in the President's House, modern art dominates the walls. This self-portrait by Hans Hofmann, a gift from Quillen's husband, adds bold lines and color above the parlor mantel. Hofmann was an important figure in the Abstract Expressionism movement of postwar America.
---
This article appears in the May 2016 issue of Charlotte Magazine
Did you like what you read here? Subscribe to Charlotte Magazine »
---