Style: Emily Klingman of Davidson Community Players
Appearing in her seventh role with the troupe, she leads a dramatic life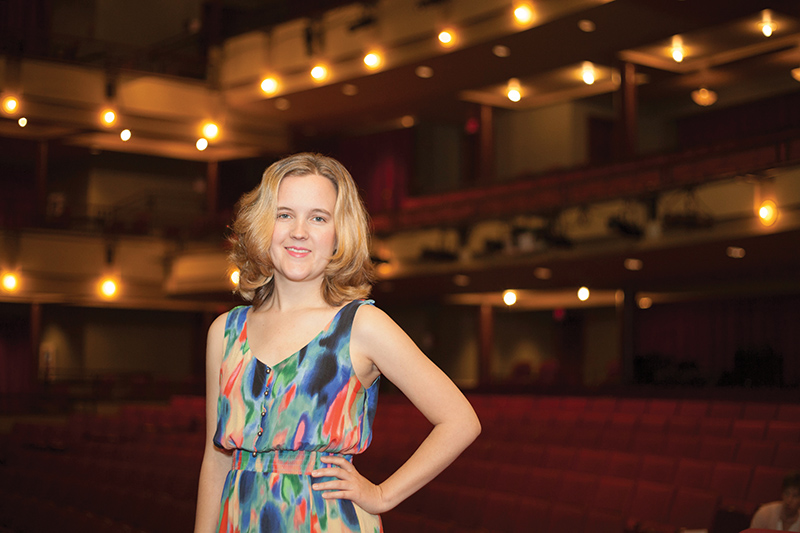 EMILY KLINGMAN will be putting on the Ritz—or make that the St. Regis—this month when she plays a floozy in Davidson Community Players' production of Annie. She is sure to get laughs for her role as Lily St. Regis, a shady character named after the famous New York hotel, who tries to con Daddy Warbucks into believing she's Annie's mother.
Klingman, 30, teaches drama at Bailey Middle School in Cornelius and has garnered a wall of awards since she began teaching there after college. With two bachelor of fine arts degrees in theater from East Carolina University (one in education and the other in musicals), she's introduced hundreds of tweens to the magic of a stage. In costume, they try out the personalities of heroes and villains, fools and philosophers. During an age dominated by screens and avatars, the flesh-and-blood experience is transformational.
"I love teaching—I love touching their lives and helping them find out who they are," Klingman says. Most of her students haven't been involved in theater outside of her classes. Onstage, they find the courage and confidence to express themselves, she says, and these skills carry over into other classes.
Her own path to theater was not an easy one. Her parents, both musicians, were concerned she'd be disappointed if she pursued a career in the arts. Their own experiences informed them—they went to ECU for music, but chose more lucrative careers in computer science (they're now retired from IBM). Yet they're partly to blame for their only child's passion. First, there was her heritage: Her family tree includes a pianist who played for silent movies and an actor who performed on a showboat. Secondly, her parents took her to see Kiss Me, Kate when she was three. Sitting in the dark auditorium, she was captivated by the Cole Porter tunes, the dancing, the lights, and the stage scenes. Many more theater experiences followed throughout her childhood. Klingman organized plays at day care, enrolled in acting classes in sixth grade, and won the Lily Tomlin award for humor and physical comedy her senior year of high school. When she couldn't stick with her history major at ECU, her parents sighed. "We saw it coming," her mom said.
---
Strand of Pearls // For graduation, Professor Jeffery Phipps, who was the costume designer for ECU's School of Theatre and Dance, presented a strand of pearls to each female student majoring in costume design. Although Klingman didn't major in design, he gave her a strand because she sewed her own costumes for every production. "He said I was an unofficial costume minor," she says.
---
​BarkBox // A photo of her dog, Huey, hangs on the bulletin board behind Klingman's desk at school. A Standard Parti Poodle, his splashy black-and-white coat is a giveaway to his personality. "He's a party animal," Klingman says with a grin. She entertains him with BarkBox, a monthly delivery service of toys and treats.

---
Sewing Kit // Klingman's grandmother, a tailor, taught her to sew. "My mom and I make all the costumes for all the shows the kids are in," she says. Racks of skirts, velvet dresses, vests, and lacy tops hang in the back of her classroom.