Style: Felt Stockings and Lumps of Coal
Barrie and Matt Benson infuse Christmas with Swedish traditions—and playfulness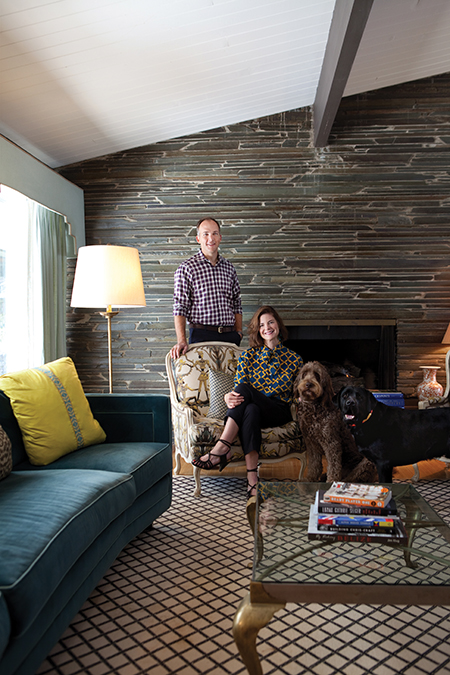 ALL YEAR LONG, Matt and Barrie Benson design homes and interiors using the best ideas in a field crowded with innovation—you've probably seen their work in Southern Living or Elle Décor. But come the holidays, they're focused on tradition. Swedish tradition, to be exact, thanks to Matt's family's heritage.
Matt, a principal architect with Meyer Greeson Paullin Benson, and, Barrie, a nationally known interior designer, bring playfulness to the season. Everyone in their household, for example, gets a lump of coal in his or her stocking. "Nobody's perfect," Matt explains with a hint of a smile. "Everyone has room for improvement." Tall and reserved, with a Swede's calm manner, Matt has been designing detailed custom homes since joining the Charlotte architectural firm in 1998. Barrie is a counterpoint, tall and dark-haired, quick and warm. Their glamorous mid-century home in the Foxcroft neighborhood near SouthPark, with its huge open rooms and a soaring stone fireplace, reflects their personalities: classic with a zing.
Showers of Swedish ornaments dress the family tree in the back of the house: straw hearts and little gnomes and red Dala horses. On Christmas Eve, everyone gathers at Matt's parents' house (including Matt and Barrie's children, Billy, 14, and Kay, 11) for an authentic smorgasbord and hours of opening presents with cousins who live in Charlotte. "We do a fish course, a cheese course, then pickled herring," says Barrie, who laughs and explains the hidden ingredient in the luscious scalloped potatoes: anchovies. Yes, the Swedes love their fish.
After Christmas, they'll head to Chautauqua in western New York. Snowfall and Victorian houses—most deserted until summer—create a quiet wonderland. The holiday rush disappears under the quiet swish of cross-country skis, something Matt's ancestors would have enjoyed in centuries past.
---
Music // Recordings by country singer Kitty Wells get lots of play during the holidays, but by Christmas Day, the Bensons tune in to WDAV for classics with a choir, including selections from Handel's Messiah.
---
Homemade Decorations // Each of Barrie's homemade felt stockings has a scene, and she confesses they're sometimes made in a hurry, leaving a trace or two of hot glue. It's all part of the fun, and even the family dogs, Otto and Woody, have stockings.
---
Reid's Rib Roast // Reid's Fine Foods, a small grocery which started in Myers Park in the 1920s, has provided top meats for family dinners for decades. Barrie orders a rib roast for Christmas Day, packaged in the company's signature white paper embellished with a kelly green logo. The Bensons are more than customers—Barrie did the interior design for the SouthPark and Selwyn Avenue stores.