Style: Inside Artist Stephen Wilson's New Series
The artist, whose work has included Hermès scarves and John Wayne portraits, turns to butterflies in his latest exhibit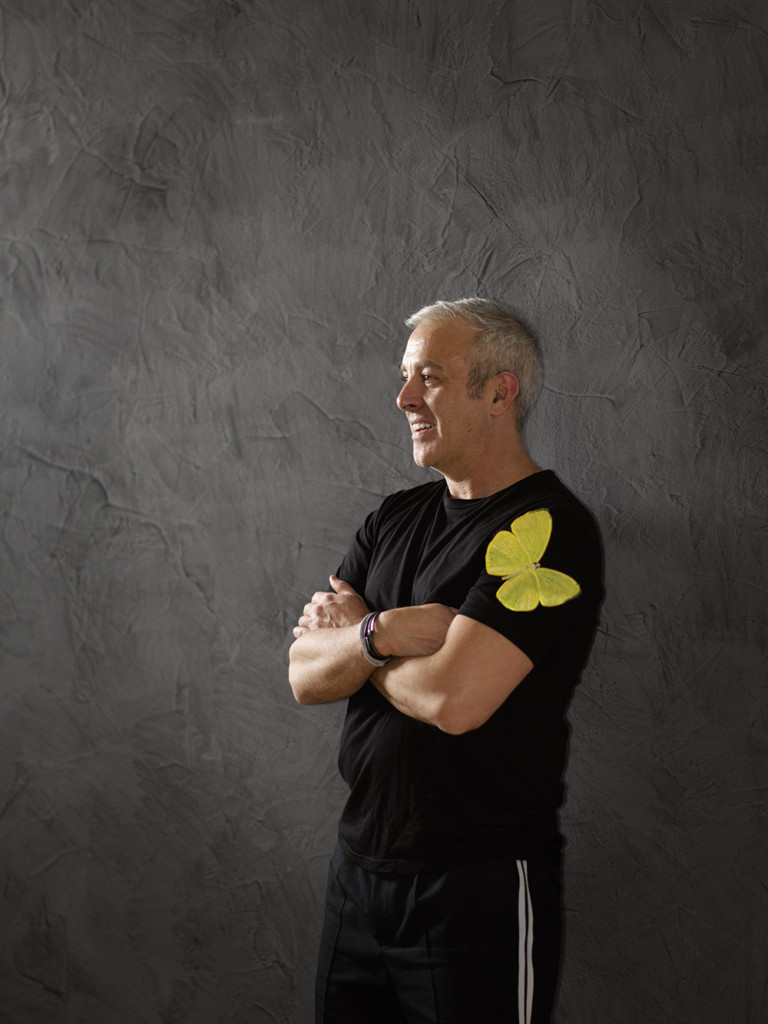 EMBROIDERED BUTTERFLIES FLIT OVER diamond-dusted oil paint, across couture box lids, and into a boxlike acrylic table. Crafted by the thousands on sophisticated Japanese sewing machines, they're the signature motif in Stephen Wilson's newest creation, Shine a Light When It's Gray Out. His first canvas in the series was black with a single butterfly, capturing the estrangement many people feel in this bleak era of American politics. But one butterfly became dozens, then hundreds as he kept working.
"Everywhere you go, it seems like there's no hope," Wilson says. Personable and focused, he has a husky voice that carries traces of a New Jersey accent and percolates with the energy of his Italian heritage. When he became a father in late 2016 (he and his wife, Aundrea, have a daughter), he began to see the United States from a father's eyes. "How do I explain the shooting in Las Vegas to a child?" he wondered. Thinking about his own youth, when access to news was limited to a 30-minute TV show before bed, he was sobered by how much the world had changed. He turned to art for a statement of hope.
Although he's earned a living from his creativity throughout his adult life, he didn't enter the world of fine art until three years ago. His career began in fashion design in New York City, using computer programming in the early 1990s to embroider clothes for clients ranging from Disney to Ralph Lauren. But as apparel jobs moved overseas, contracts dried up.
Wilson had a sister in Charlotte, so he brought a handful of employees and came here, launching a business in 2003, Anita Goodesign (yes, "I need a good design"). The company sold his embroidery patterns and taught classes; today he has 50 employees in a south Charlotte complex. By 2014, the company had reached a level of success that freed him to pursue his dream of fine art. His most recognizable creations, to date, are elaborately embroidered box lids from Hermès, Gucci, and other couture lines. Framed in simple shadow boxes, they're a riot of color and pattern, often with finely stitched flowers or animals.
The butterfly dominates his current work, but could just as easily symbolize Wilson's life. He's broken out of the commercial cocoon to create textile works carried by galleries in Palm Beach, Beverly Hills, and the New Gallery of Modern Art in Charlotte. With short-cropped gray hair and the sensibilities of a man who's worked hard, he's giving his audience more of his heart in this new series—a father's point of view.