Style: Laura Rutledge's Game Day Chic
She stays fresh reporting the SEC's biggest rivalries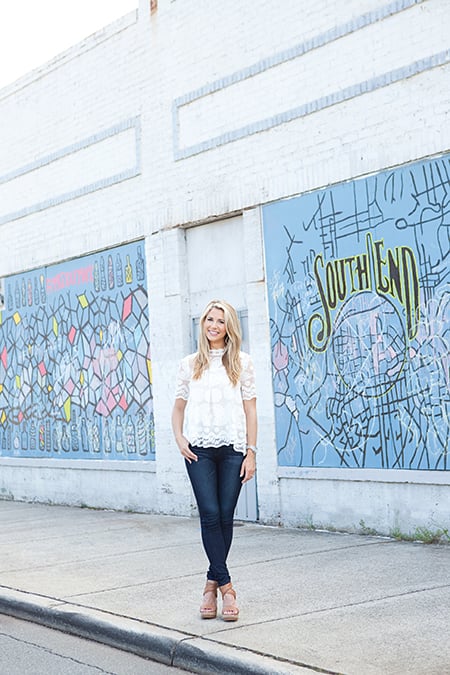 TURN ON THE SEC NETWORK this month. You may catch Laura Rutledge chasing a college football coach down a sideline. Despite logging six miles at most games, the host and reporter for ESPN's college sports network is no jock. Her Harvard-educated dad and schoolteacher mom weren't even athletes. "I was always terrible at sports," she admits, her hazel-brown eyes twinkling at the irony.
The Atlanta-born journalist, who is married to Boston Red Sox third baseman Josh Rutledge, has a history of turning up in unexpected places.
During her freshman year at the University of Florida, a classmate recommended she check out the campus radio station. "I needed some extra money for classes," Rutledge says. The only slot open was in sports, so she took it. This was a sharp turn from her senior year of high school. Boarding at the Kirov Ballet in Washington, D.C., she anticipated a career in classical ballet. However, over the next few years at the station, she found she had a knack for telling a story. She graduated in 2011 with a journalism degree, and by 2014 was covering sports for CNN.
Rutledge, 28, is poised and engaging, skills she honed as Miss Florida 2012. When friends signed her up to compete in the Miss University of Florida pageant her sophomore year, she thought they were joking. "I had never done pageants," she says. Too bad, they explained, because the entry fee benefits a charity and we've already paid. Although she lost, she competed for the next three years, reaching the Miss America pageant in 2013.
A good conversationalist who's at ease with others, Rutledge is bound to turn up in more unexpected places in the future. For now, she's chasing the next great quote, the next good story from legendary coaches and on-the-rise players.
DRY SHAMPOO // Rutledge makes her blowout last with Drybar's Detox Dry Shampoo. Rice powders absorb oil, leaving a fresh scent of sandalwood, jasmine, and vanilla.
---
FACIAL SCRUB // Cleaning up should be as much about the experience as the outcome, and FIG + YARROW's organic facial scrub delivers. Oats and honey are mixed with minerals and infused with herbs to deliver a smooth, clean finish.
---
EYE SHADOW // ESPN makeup artists told Rutledge about MAC eyeshadow in "All That Glitters." It can be used wet or dry, and Rutledge says it's an instant eye brightener if you're feeling tired.
---
This article appears in the October 2016 issue of Charlotte Magazine
Did you like what you read here? Subscribe to Charlotte Magazine »
---