Style Lessons I Learned from My 50-Something Mom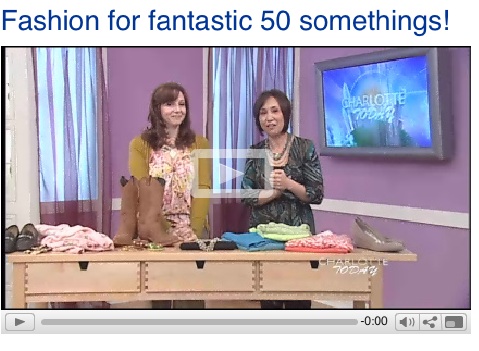 This morning, I chatted with Colleen Odegaard about the things I've learned about style from my fabulous mom. We had a live audience of over-50 folks in the studio at Charlotte Today, and even some free TCBY fro yo! You can watch my segment right here, but since I only got a few minutes to cover the lifetime of good style advice I've gotten from my Mom, I thought I'd share a few more thoughts with you.
Style Lesson #1: You can wear super trendy stuff at any age – but you don't have to wear the trend the same way everyone else is wearing it. Adopt the trends that work within the wardrobe style you've already got. A great example of this is western style boots. You don't have to wear them with mini skirts or skinny jeans to be trendy. They can serve the same purpose as your more traditional brown, low-heeled boots but they'll add a bit of updated edge to your look. I love them on older women with a bootcut jean or corduroy pant and simple sweater or cardigan. This season, florals and stripes are big trends, but you don't have to dress like a sailor or wear bright pink peony prints to achieve trendiness. Instead, try a tote bag with a floral design that adds a pop of color to outfits you already own and instead of big horizontal stripes, look for tops or dresses that incorporate diagonal striping or even just look for high-contrast black and white patterns that will have the same bold effect as a stripe does.
Style Lesson #2: Buy clothes in signature colors and stop buying clothes in colors that don't work on you. No matter how pretty they are. One of the great things about being a more mature woman, is that it's totally awesome and acceptable to have a signature color. Younger fashionistas are more prone to wear colors of the season, colors that are in "now" and then abandon them later, or at the very least, they may feel compelled to always have a wide variety of colors in their closet. My mom and her signature hues have taught me how chic it can be to KNOW without a doubt, that you look like a million bucks in a particular shade and buy the heck out of it. Packing gets easier. Choosing outfits for occasions where you'll be photographed gets easier. All because you've embraced that you look hot in orange and terrible in red. Now if someone could just get me to stop buying heather grey and ballet pink…
Style Lesson #3: Knowing what jewelry looks good on you is just as important to your style as knowing what clothes look good on you. We're all smart enough to know that certain, tricky clothing styles don't work for every body type, but do you know what kind of jewelry you can't pull off? Jewelry is such a safe area to indulge in a trend (statement necklaces! costume cocktail rings! metallic fringe earrings! feathers! enamel bangels!), but that doesn't mean you should. You need to think about proportions, the length of your neck, the size of your hands, the size of your – ahem – breasts, the cut of your hair. All of these things can affect how well you are able to wear a jewelry trend like you've owned it your whole life. My mom has mastered what she can wear (collar length necklaces, large rings, bracelets of almost any shape or size) and what she can't, and you won't find any of what she can't wear in her jewelry box. She's only got a collection of the accessorizes that do work on her, and doesn't have to be tempted to wear the ones she really can't pull off. This is a lesson that would save us all a lot of cash and a lot of hours lost standing in front of the mirror holding up 5 different necklaces to see which one looks better.
Style Lesson #4: Eventually, everything becomes vintage and thus, cool again. I'll admit, this is the hardest one for me to swallow because I am Stage 5 Purger. I HATE clutter and I LOVE cleaning out my closet on a quarterly basis. My mother, bless her soul, is a saver, and is forever trying to convert me. While I haven't changed my ways, I have certainly taken advantage of her predisposition and have thus been right on trend by borrowing things like wide belts that returned in the mid-2000s (that she had hung on to since the 80s), retro handbags (many of which she saved from her mom's closet), and wooden bangle bracelets (she can't even remember how long she's had some of them).
Plus here's a few lessons that Shop Talk readers have learned from their moms:
If you like it, buy multiples. You'll be glad you did when you wear the first one into the ground.

Never, under any circumstances, should anyone be able to tell that you teased your roots. Learn to do it right!


If you don't like it in the dressing room mirror, you aren't going to like it any better at home.
And one more from my mom…
If you don't even have it all the way zipped up and you already love it, you should get it. In fact, get it in both colors.