Style: Meet Fashion Designer Luis Machicao
The Peruvian-born, Charlotte-based pro creates custom gowns for socialites, brides, and celebrities around the globe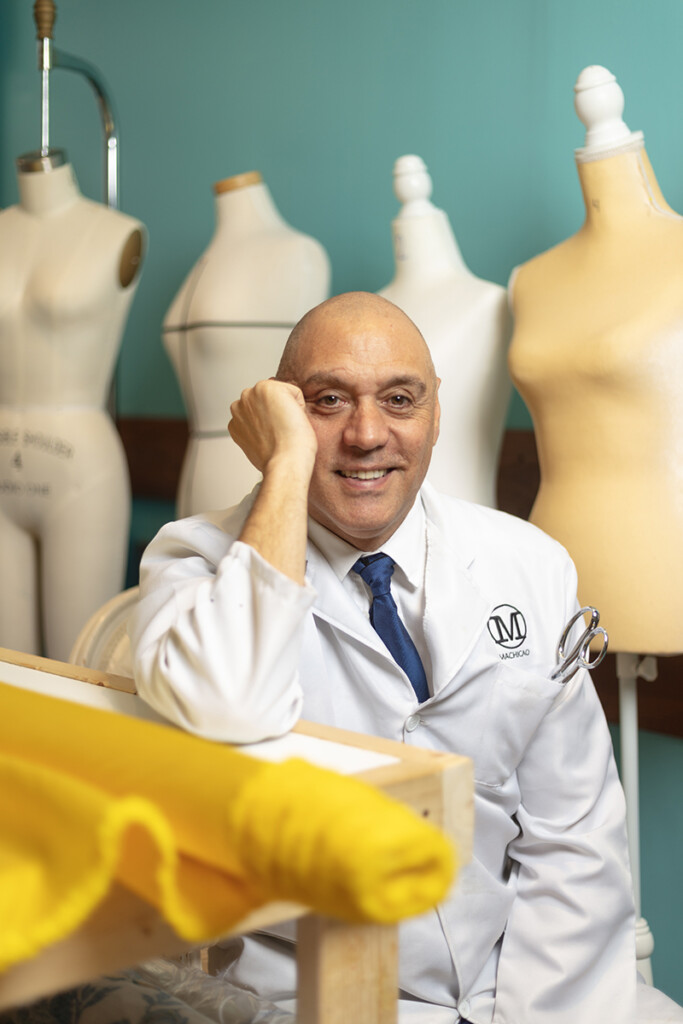 A Google search of Luis Machicao Couture reveals little about the fashion designer's 35-year career: just Instagram and LinkedIn pages he rarely updates and a website with his 2021 collection. Dig a little deeper, and you'll discover that he appeared in The Hunger Games and won the Best Designer Award at Paris Fashion Week in 2013. But you won't find much about the designer himself or the high-profile clients he dresses.
It's not that he's shy or reclusive. Machicao is warm and gregarious, and he loves to talk about his work and travels. He just prefers to keep his client base exclusive, and he often signs nondisclosure agreements that prevent him from revealing the celebrities he works with. He doesn't advertise his Charlotte design studio, Machicao Couture, or include contact information on the site.
When we speak on the phone in October, he's about to catch a flight to Paris to find fabric for a client's wedding gown; last week, he was in New York to do a fitting before a charity gala. "All of my clients come to me because another client sent them to me," he says. "I want a personal relationship with you. That's why clients stay with me for years."
Machicao specializes in one-of-a-kind red carpet gowns, wedding dresses, and tuxedos that range from $800 to $5,000. He works by appointment only and spends up to eight months on a single gown. "If it's an old client, I know exactly what they want," he says. "For new clients, we have a one-hour consultation. I ask what colors, textures, and silhouettes they like. But looking at them, I know exactly what color to use based on the color of their skin, eyes, and hair. If your hair is black and your skin is fair and your eyes are blue, cobalt blue will make everything pop and look amazing."
Machicao grew up in Peru and studied fashion design in Paris. He began his career in Lima, where he designed costumes for soap operas and local theater. As his talent and reputation grew, he served as the designer for the Miss Peru Pageant and later dressed the president and first lady. That exposure led to international fashion shows, and his collections appeared on runways in New York, Paris, London, and Milan. He became a regular at New York Fashion Week, and he decided to make the U.S. his permanent home in 1998.
"I'd been visiting the U.S. since I was a teenager and came to Miami all the time for fashion shows," he says. "It was the weather that brought me to Charlotte. I love that we get four seasons here."
Today, he employs a staff of five at his Eastover studio, where they do everything from the pattern design and fabric cutting to embroidery and fittings. Machicao takes at least 50 measurements of each client before the team selects the fabric. Once the client approves his sketch, he typically orders the fabric from New York. "It's the laces and raw silks that you can't get here," he says. "Also chiffons. If you want a good silk chiffon, you have to go to New York or Paris."
When social distancing limited galas, weddings, and fashion shows in 2020, Machicao taught product design at UNC Chapel Hill for a few semesters. Now he gives seminars at High Point University, and he shows his collections at the Mint Museum Uptown every March.
As the only Charlotte-based fashion designer who shows in Paris, Machicao could base his operations in any metropolitan city, but he says has no plans to leave his adopted hometown. That doesn't mean he won't hop on a plane in search of the perfect fabric, though.
"About 10 years ago, I had a bride who was getting married at The Duke Mansion and she wanted Bordeaux lace on the back of her dress," he says. "I couldn't find it in New York, so I flew to Belgium. That was the most extravagant bridal gown I've ever done. But to me, extravagant doesn't mean crazy. It means something that will make someone's jaw drop."
TAYLOR BOWLER is the lifestyle editor.