STYLE: Museum Curator Annie Carlano Gets Personal About Fashion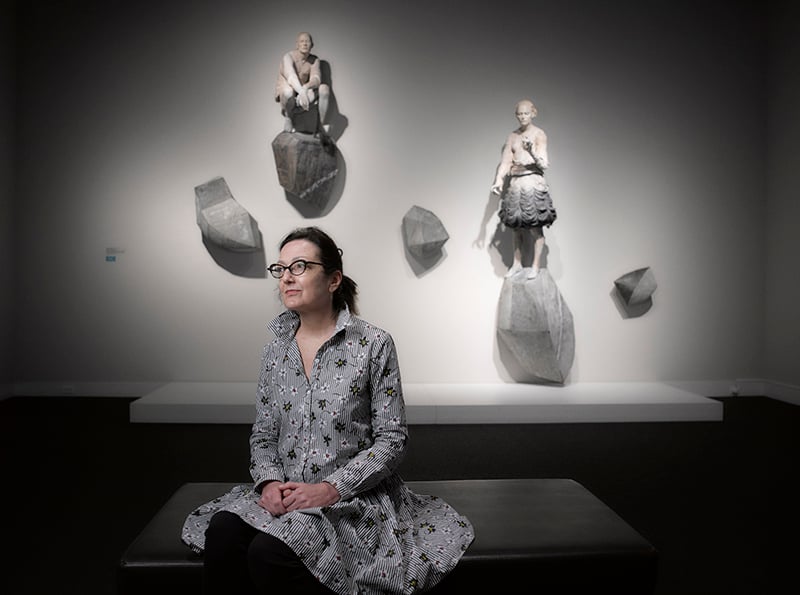 Despite Annie Carlano's intimidating credentials—she's lectured on the history of Paris textiles and fashion at Parsons School of Design; earned an MA in Florence, Italy; been awarded two Mellon Fellowships; and served as curator of costume and textiles at the Museum of Fine Arts Boston—the Mint's senior curator of craft, design, and fashion is the sort of down-to-earth academic who would make a great dinner party guest. Amusing and erudite, she interrupts herself often to add qualifiers, parenthetical statements, interjections, and clarifications. With her dark hair mussed back and wearing tortoise-rim glasses, she looks as though she's just stepped away from an Oxford lectern. But her delight in objects of history is youthful and contagious, and it's not hard to imagine her on the streets of Paris, ducking into a boutique and sighing with appreciation.
CHARLOTTE MAGAZINE: How did you get into this line of work?
ANNIE CARLANO: In graduate school, I planned to be a professor of art history. I never considered a museum career until I had an internship at Palazzo Pitti in Florence at the Museo degli Argenti—you could just say decorative arts museum—and that's when I was introduced to curatorial work, and then I had a graduate student internship at the Victoria and Albert Museum. So, one thing led to another very quickly, and before I knew it, I was just working in museums.
CM: You've seen clothing lines from all over the world. Which ones do you personally enjoy wearing?
AC: Of the Japanese designers, Juyna Watanabe—it's the combination of beautiful fabrics and very creative silhouettes. But they're wearable. Dries Van Noten—he's Belgian. Also, Stella McCartney, because she reflects her worldviews in her designs. Her designs are sustainable, and her fashions and accessories are all vegan. Most of all, her designs are of our time. They draw on past styles, but they're totally original.
CM: If you were to wish for one fashion item from the past to make a comeback, what would it be?
AC: That's a really good question… I think I would have to say, just because of the way it feels—and I had the pleasure of wearing one of these—the 1930s silk cut-on-the-bias dresses of Madeleine Vionnet in Paris. They feel really good on the body—they hug the body—but they're comfortable, elegant, and are great examples of the combination of craft and design in fashion.
CM: Oscar de la Renta said, 'Fashion is about dressing according to what's fashionable. Style is more about being yourself.' Do you agree?
AC: I think what Oscar de la Renta said is true, and a lot of people quote that. Fashion, by definition, is something that changes and reflects its time. People are fashionable if they're wearing the latest whatever. It doesn't mean they have any style. So people I know in our community, who I admire for their personal style, they might wear Dries Van Noten 2018 shoes but a vintage dress and Native American jewelry. They design their presentation to
the world.
CM: The Mint is currently presenting The Year of Fashion. As curator, do you think it's been well received? Not everyone thinks fashion is art.
AC: I'd like to say how happy I am with the success of it, and the public response to the beauty and the joy of fashion. In Oscar de la Renta, in the variety of contemporary fashion collected by members of our community, in the William Ivey Long installation, and then with African-Print Fashion Now!, I'm proud of my colleagues for offering a very broad sweep of the fashion landscape. It's a global art world, and we see that most obviously in fashion.