Style: NASCAR's Kevin Harris
He appreciates speed— and a clean cut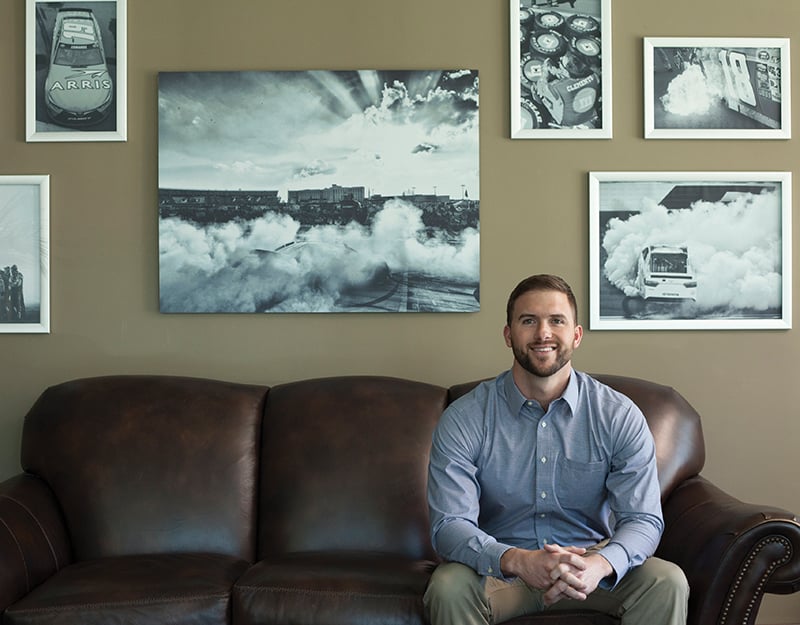 TIMING IS A BIG FACTOR in Kevin Harris's life, and not just when he's changing tires. As a member of the pit crew for the NASCAR cup series' No. 19 car (the Joe Gibbs Racing Toyota driven by Daniel Suárez), he trains all week to maintain his coveted position as front tire carrier. He says timing has played an uncanny role in his life since childhood.
Take his first day in sixth grade. He walked in and noticed a girl sitting at the back of Mr. Robinson's math class, over to the left. An immediate crush took hold. Soon he learned he had something in common with the shy girl named Allison—they were both newcomers. His family's move to Winter Springs, Florida, shaped his life for years to come. "If my dad hadn't taken the job as head football coach at Winter Springs High School, I would have never been in that classroom," Harris says. The romance that began in middle school led to a wedding five years ago at Ballantyne Country Club.
Good timing also followed Harris into his first year of college. He enrolled at Wake Forest University on a full football scholarship in 2006, when the Demon Deacons had their best season in decades, winning the Atlantic Coast Conference and playing in the Orange Bowl. Harris scored his first collegiate touchdown on the road at Ole Miss.
Harris has an athlete's stride and focus, yet also a friendly, down-to-earth manner that's earned him yet another opportunity. Several years ago, while working on a competitor's pit crew, he became intrigued with Heath Cherry's role at Joe Gibbs. Cherry worked on a pit crew, but Harris spotted him showing around corporate sponsors. A dual role was unheard of in the industry, so he introduced himself to learn more. In 2014, Harris was hired to work under Cherry in a similar role. So now, when he's not jumping over a wall with a 70-pound tire, he's meeting clients at restaurants or doing the million-and-one things required to keep sponsors happy. His accounts include Arris, Subway, and Hisense. It's his dream job, he says. Talk about good timing.
---
QALO BAND // "You just hear horror stories," Harris says, referring to gold wedding bands that overheat or get caught on equipment during a pit stop. Although he has a gold band, Harris trades it out for a Qalo ring at work. Made of silicone, it rips if caught and also doesn't get hot. He most often wears his in black or gray.
---
A GOOD HAIRCUT // Before a race, Harris meets with sponsors in their suites or on pit road. Afterward, he changes into a fire suit for the race. A clean and simple haircut works in both worlds; he gets his from a barber at Maverick Studio in South End's Lenox Salons.
---
BOARD GAMES // In the intense world of NASCAR, having downtime is a priority. The Harrises get together weekly with friends, usually to play board games. A frequent go-to is Monopoly.