STYLE: Shades Of Shades' Founder Marsha Douglas-Sydnor
Five years after a horrifying health scare, the inclusive eyewear founder can see clearly now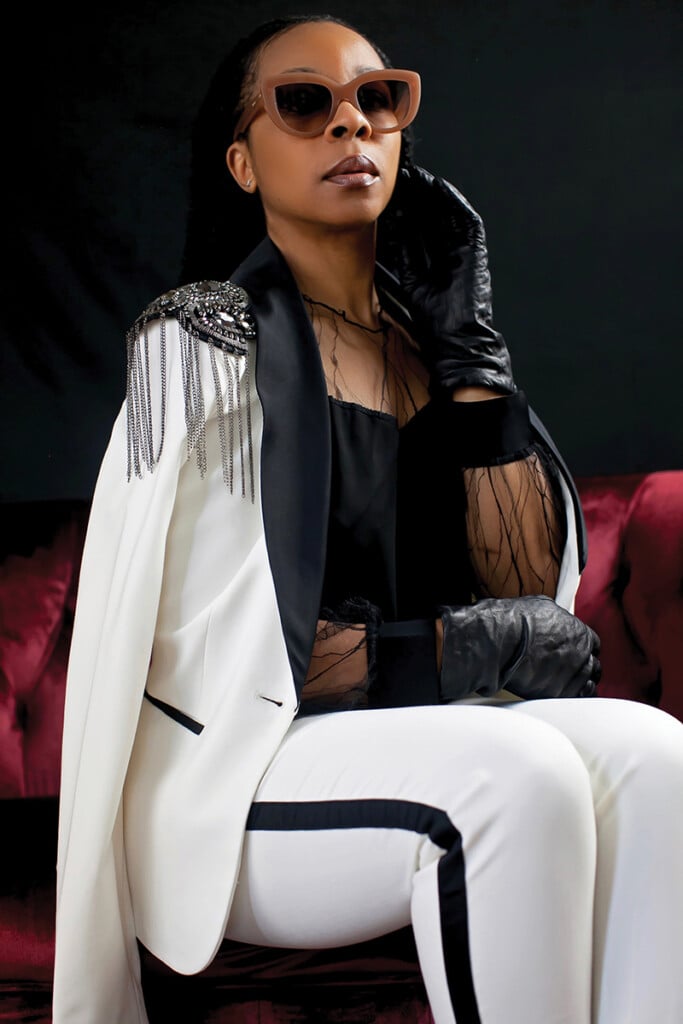 It started with a brain tumor. In 2018, Marsha Douglas-Sydnor bumped her head at the gym. Two weeks later, the pain hadn't subsided. Her doctor sent her for an MRI. On her way home, Marsha got a call: She needed to go to the emergency room. The exam had revealed a golf ball-sized tumor behind her right eye.
It was benign, but it needed to come out to protect her vision, and benign tumors can turn malignant. To lift her spirits, her husband, Brian, booked a trip to Jamaica ahead of her surgery. Marsha needed sunglasses for the trip and wanted a pair in a "nude" shade, one that matched her skin tone and worked with any outfit. "I went to so many different places trying to find my shade of nude, and I couldn't," she says. "I was irritated and frustrated that something that seemed so simple was so complicated."
Marsha joined designer forums to research manufacturing and vowed that if she came out of surgery, she would create her own line. After the operation, she went to Miami for an eyewear trade show to meet manufacturers. Many told her they couldn't distinguish between tones and undertones on her palate. But one, La Giardiniera, understood what she was after.
"The industry had clumped 'nude' into two particular shades. That's not my nude," Marsha says. "Think of your classic black sunglasses. They don't age. I said, 'I'm going to do the same thing, but with your custom nude shade.'"
Marsha founded Shades Of Shades in August 2019. It's a web-only business that sells sunglasses and eyeglasses in 14 skin-tone shades and five classic, vintage eyewear silhouettes, at prices that range from $198 to $460. The company has been mentioned in Cosmopolitan, Essence, Marie Claire, and Travel + Leisure, and celebrities like Eva Longoria, Christina Milian, and AnnaLynne McCord have been photographed wearing them.
Skin-toned frames offer a softer, more elegant look than the clear frames that have trended for the past few years. Marsha designs them, and La Giardiniera makes them from Mazzucchelli acetate, which keeps the glasses lightweight but flexible. Shoppers can use a virtual fitting app and a "shade finder" tool to match their skin tones.
Marsha has a history of taking leaps. She was born to Jamaican parents in Maryland and, when she earned her degree from Bowie State University, was the first in her family to graduate from college. After graduation, she moved to Los Angeles, pursued acting, and worked as a Soul Train dancer before she married her college love in 2008. The couple traveled the world and shot wedding and fine art photographs for a living before they settled down and had three children.
In 2015, they took another leap and moved to Charlotte for a more family-friendly life. Four years later, with her surgery behind her and a renewed sense of purpose, Marsha used the business plan she'd drafted from her hospital bed to build Shades Of Shades.
"I created this brand because of a lack of inclusion," Marsha says. "I want everyone who wears the brand to feel represented and to feel beautiful in their own skin."
AMANDA PAGLIARINI HOWARD is the digital content coordinator.