STYLE SPOTLIGHT: Vignette Interior Design
Rosarae Drury, co-founder of one of the city's most prolific design teams, channels wit and whimsy into shared spaces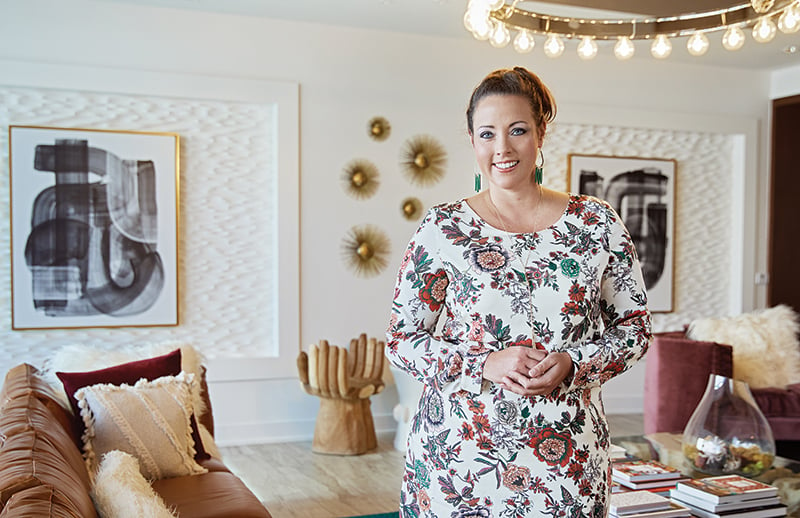 AFTER YOU'VE POURED yourself a beer from the brass tap, have a seat in a plush maroon chair. Notice the empty glass decanters that double as light fixtures. Listen to the bowling pins clatter, one lane lit by a sign for Midwood Cleaners.
Pinhouse, a former laundromat on Central Avenue, is now a self-serve craft beer and wine bar. It's the vision of Emilie Moseley and Rosarae Drury, owners of Vignette Interior Design.
Vignette has designed a number of commercial projects throughout Charlotte, stamping them with a smart, quirky, and sophisticated style. The company recently completed Draper Place, a luxury apartment community in Eastover, and Savoy on Stonewall, a mixed-use development uptown near Whole Foods. At Circle University City, they used bold colors, chrome accents, and clear acrylics for UNCC students' private housing. The firm is currently transforming a midcentury church in NoDa into a coworking space.
Drury runs Vignette's two-story office in South End, where a half-dozen employees manage projects across the United States. Moseley, who recently moved to Georgia to work from a satellite office, handles the early stages of a project by developing the big picture, then hands it off to Drury and the Charlotte team.
The business didn't look like this 11 years ago. After Drury lost her dream job at Gensler, one of the world's largest design firms, she couldn't find another job in Charlotte. It was 2008, and the company had laid off half of its employees. Drury's education—a Bachelor of Science in architectural sciences from Western Kentucky University and a Master of Arts in interior design from the Savannah College of Art and Design—might have impressed design firms in a different economy, but the construction industry had come to an abrupt halt.
She was walking her two Boston terriers in NoDa when she met Moseley, who had an Italian greyhound. The two struck up a friendship over dogs and design; Moseley worked for Hirsch Bedner Associates, an international firm that served the hospitality industry. When Moseley faced her own job crisis (she'd have had to move out of state to keep her job), the women took a look at their talents and decided to start their own firm. "We had nowhere to go but up," Drury says.
They launched Vignette Interior Design in Moseley's bedroom in 2009, and Drury says the $2,000 she invested from her severance package was the first and last time she's put money into the company. Even though they didn't have a client, Drury recalls of the early months, "We went to work every single day." They landed their first big job designing a multifamily project with Crescent Communities, one of the few construction firms that could still secure loans at the time. Business took off.
Today they're experts at multifamily design, where the integration of home and community is trending. Residents want to be connected; Savoy, for example, will host resident events at the wine bar at Whole Foods. "We have a lot of developments now that are bringing coffee shops into their leasing centers, where someone off the street could come in and buy coffee," Drury adds.
Developers began construction on more than three times the number of apartments, condos, and mixed-use projects in 2018 than in 2009. By focusing on the "vignette," a small scene that orders one's personal experience, their work has kept pace with demand. "We make these special moments," Drury says, "these special vignettes, these very special experiences that people remember."