Style: Summer Partee of Summer Blaise Interiors and Events
From woodwork to retail, the kindergarten teacher-turned-designer has learned how to do it herself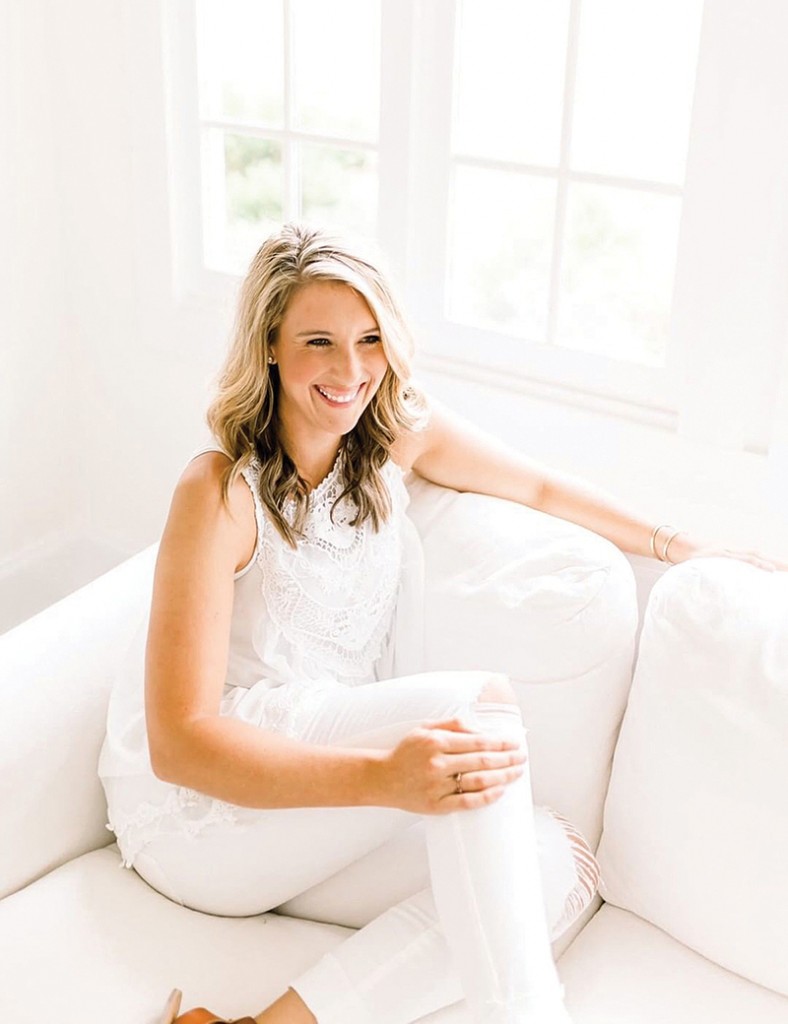 It would be easy to mistake Summer Partee for a lady of leisure, with her flowing blonde tresses, pristine white blouse, and gentle Southern drawl. But don't let her delicate exterior fool you. The founder of Summer Blaise Interiors and Events knows her way around a hardware store. "I love working with power tools," she says. "I get so many stares when I go to Lowe's. Guys are like, 'Do you know what a screwdriver is?'"
Partee laughs it off. "I'm not a high feminist—we definitely need men in our life—but I'm not going to wait for my husband to come home and do projects around the house. I'd rather learn how to do it myself."
The 29-year-old Lake Norman-area native discovered her knack for interiors four years ago after she left her job as a kindergarten teacher to stay home with her infant son. She used her Belmont home as an outlet to explore her creativity and tackle some DIY projects. "Our budget was really small, with just my husband working," she says. She learned to refinish old furniture she found at Goodwill, Habitat ReStore, and Facebook Marketplace and spot treasures at local antique stores. Soon, her signature style emerged: a modern farmhouse aesthetic dotted with vintage accents and a neutral palette of creams, beiges, and wood tones.
"I started sharing pictures on Instagram and used our house as a marketing tool," she says. "A couple of people took a chance on me, and my little hobby became a job."
In 2017, Partee launched Summer Blaise Interiors (Blaise is her middle name) out of her house and started with a few small projects at a time. She also had a booth at Catawba River Antiques where she sold her refinished furniture. Partee added event planning to her brand the next year and brought friend Emily Rhyne on board as a full-time event director and planner for weddings, corporate events, and special occasions.
This year, Partee has expanded again, with a Belmont retail store she opened alongside a gift shop called Surprise Me. A large part of the Surprise Me space was unused when Partee visited late last year. "I was in there shopping one day, and I started talking to the owner," she says. "I could tell COVID had slowed business for her." Partee closed the deal in January, transformed her half of the space in three weeks—she and a friend built the massive wooden checkout counter themselves—and opened Feb. 4.
The shop, on a strip of Main Street that Partee says reminds her of Mayberry, sells home décor, candles, and a full French-inspired apothecary line. A 12-by-4-foot table that Partee built sits in the middle of the floor, and she hopes to use it to lead DIY classes as COVID restrictions ease. Customers can also purchase one-of-a-kind furniture that Partee refinishes in her home workshop. "It's stuff that has good bones," she says, "but needs some help to fit into homes today."
The shop is open on Fridays and Saturdays, "like a flea market," so Partee can meet with clients and care for 4-year-old son Camden during the week: "I'm still a home-school teacher and mom first." But she set up an online store so customers can browse her products and get design inspiration whenever they want.
Partee juggles seven to eight clients at a time, and she recently designed the interior of Sole Priorities, a new sneaker shop in Carolina Place Mall. "I don't say no to projects, even if it's not the look I usually go for," she says. Her dream is to restore a French chateau, but for now she's content with the "dream fixer-upper" she and husband Caleb bought in Gastonia after they sold their house in Belmont.
"We're transforming it into a French country farmhouse," she says. "A home is meant to be somewhere your family can grow, learn, and go through good times and bad times. That's always the goal—to create spaces where a family can thrive."