STYLE: Torrie Savage of The Savage Way
She takes guerilla marketing to the streets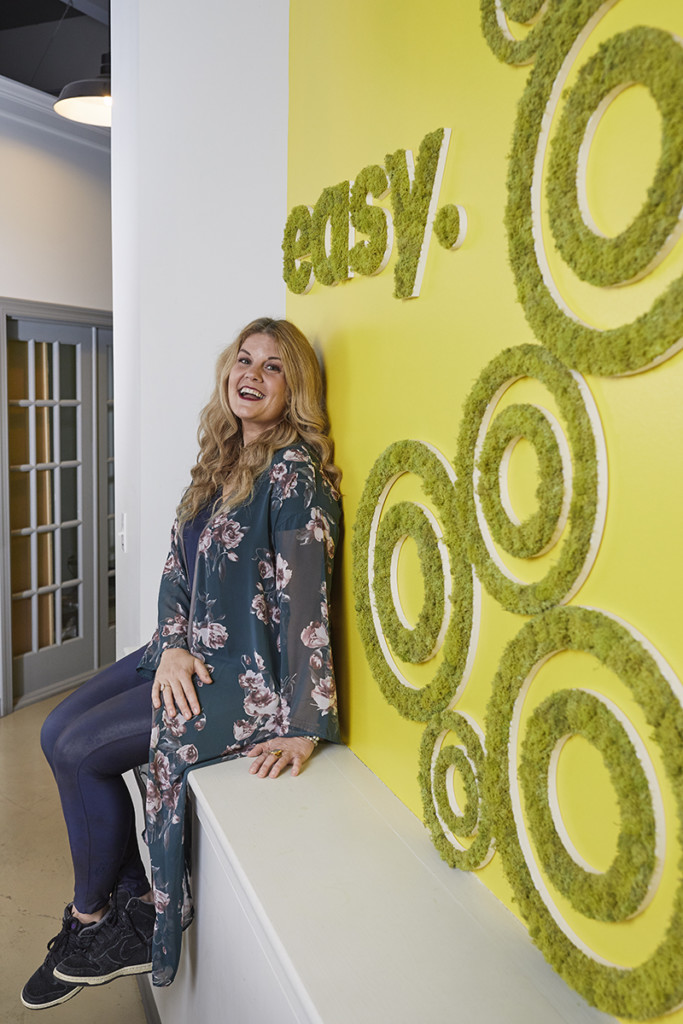 WHEN THE ACC BASKETBALL TOURNAMENT came to Charlotte in March, thousands of uptown visitors walked on basketballs.
Not real ones, but sidewalk images pressure-washed onto dirty cement. The Atlantic Coast Conference hired The Savage Way to create four designs of basketballs, mascots, and a hashtag, providing fans with one more reason to get on social media. The technique, which is temporary and legal, involves placing a stencil on the sidewalk and spraying the cutout spaces with pressurized water. When the stencil is lifted off, the clean area is the design and the dirty area is the background.
Who knew the sidewalks were so grimy?
Torrie Savage did.
One day, while pressure-washing her dad's sidewalk, she began blasting flower designs on the dirty cement with the hose. Excited, she researched the concept and found it was popular in Europe, often called "reverse" or "green" graffiti.
"We laugh looking back," Savage says, referring to her business partner, Paula Bartlett, who joined her shortly after she launched her advertising company in 2012. "We were going to call it Aqua Ads, but we didn't want it to be so much about ads," she says. She came up with "clean graffiti" and sold OrthoCarolina on the idea. The company has remained a client ever since.
Savage and Bartlett have been hired to run campaigns in other cities, too, including Portland, to promote the city's public transit system, and New York, to announce the opening of Clarks' shoe store in Soho. Local work is booming, with contracts that range from the Carolina Panthers to the Dowd YMCA. Their clever designs make clients and their patrons smile. An ad for a local coffee shop, designed by Matt Hooker, shows a latte with "Love People" written in the foam. On the cup's side is the company's logo, Not Just Coffee.
Stylishly dressed, tattooed, with long, wavy hair, Savage, 37, moves easily between the fast-paced world of social media and the marketing offices of corporations. She graduated in 2005 from UNC Charlotte with a degree in organizational communications (the culture within companies), but her first job out of college was in marketing, and that's where she's stayed. She's purchased advertising for Lowe's Motor Speedway and taught restaurant and bar owners how to use social media. She gained insights from clients and agencies before going out on her own.
"When I left corporate life, I thought, 'If I've got to work the rest of my life, I want to do something fun,'" she explains. "Fun" also meant relevant, and she believes that when people share on social media, relevance increases. She's found her place in "guerilla marketing," using the art of the unexpected for her clients. Clean graffiti, roaming bike billboards, and brand ambassadors are some of the ways she connects her clients to their customers.
And moss. "Moss has taken off—it's taking over our new space," she says, sitting at Amélie's in Park Road Shopping Center, sipping black coffee. Her new office on West Morehead Street is already filling up with stashes of dyed reindeer moss. The gray arctic moss, eaten by reindeer and other mammals, is beautiful when dried and often dyed green. Savage uses it to create large-scale words, designs, or logos; it's a hit with corporate clients like AAA, the travel service, that want a fresh look. "You don't have to water it. There's no maintenance; you don't spray it or anything. You hang it on your wall like art and leave it," she says. It's yet another form of ambush. Few people have seen anything like it, and the effect can be charming.
As she introduces Charlotte to new styles of marketing, Savage also proves there's an art to being relevant—and that it's fun.