Style: Wedding Planner Anne Markey
At home, she put her creativity to work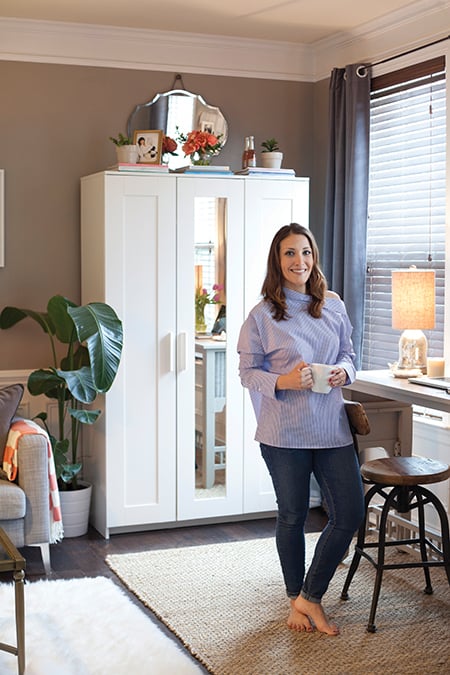 A WATERCOLOR PAINTING is propped up on Anne Markey's mantel, a classic scene from a wedding: Pale roses on mounds of greenery run down the center of a long table, place settings on each side. The artist's style is loose, but a close look reveals exquisite details—reflections on glasses and sunlight falling on chair backs. "It was a gift from a client," Markey explains of this scene from Quail Hollow Club, painted by a Charlotte artist.
Markey was the wedding planner, and the painting says much about the clients who've been coming to her since she launched Favor Me Events in 2009. They're loyal, and their recommendations have kept her in business with little advertising. She regularly plans weddings at top venues—this month, she'll be at the Duke Mansion—and her style is similar to the painting: timeless with a light touch, supported by a keen eye for detail.
Although she works with budgets that often exceed $100,000, she's resourceful, funny, and creative. Take this room, for example, her home office. Deciding to overhaul it with calming tones, modern furniture, and lush textiles, she set out to find what she needed. The white mantel doesn't frame a real fireplace—Markey found it on Craigslist, painted it, and mounted it on a blank wall. Her mom sewed the monogrammed linen pillows, and the standing desk across the room? Another Craigslist find. "It used to have some baskets attached to it, and I wanted a standing desk. I took a saw to it," she says.
Petite with shoulder-length brown hair, fine bones, and glowing skin, Markey didn't expect to become a wedding planner. "I went to school for journalism, and I really wanted to be in front of the camera," she explains. She and a friend moved to New York City after graduating from Point Park University in Pittsburgh, but she couldn't land a broadcasting job. Recruited in 2003 to become an event planner for the New York chapter of the ALS Association (the previous event planner quit, and the staff turned to Markey, who was working a temp job in the office), she discovered she was good at it. More event planning jobs followed, and when she and Steve, her husband, moved to Charlotte for his job, she started her own company. These days, she may not be in front of a camera, but she's often to the side, editing a scene to the last detail.
---
FLATS // Markey likes to work barefoot at home, and turns to these Converse sneakers for client appointments. She wears flats at weddings.
RUSH ESPRESSO // Although she's followed the Paleo diet for several years, Markey's guilty pleasure is the occasional vanilla almond-milk latte from this café's Ballantyne location.
HANDWRITTEN NOTES // Markey sends new clients a gift box that includes prosecco, her homemade chocolate-chip cookies, a journal, and a personal note written on stationery created by Olive Paper, a local company.