Substitute shopping for local craft beer events this Black Friday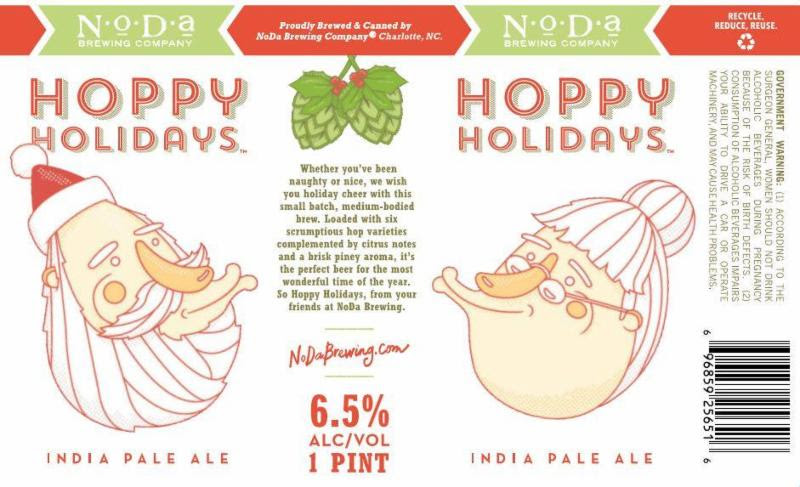 Black Friday is a time to search out some of the best deals, and it's no different with craft beer in this area. So while many are falling over each other to get the best doorbusters, relax with your favorite adult beverage and check out these events:
–One of NoDa's most popular seasonals is back, and the brewery is releasing it earlier than ever for all to enjoy. Beginning at noon in the taproom Friday, you'll be able to get Hoppy Holidays. This winter IPA is brewed with six different hop varieties, along with spruce tips, giving it a piney taste with citrus notes as well. To me, it's one of NoDa's best beers and always has me looking forward to Christmas to open up a can.
Cans will be available for $14.99 a four-pack, and there will be no limits in the amount you can purchase (the beer will be on draft as well). And if you're traveling for the holidays, have no fear. Look for Hoppy Holidays to hit local distribution in your favorite bottle shop beginning next Monday.
–Good Bottle will be opening Friday at 8 am (Hex Coffee is open an hour earlier to get your morning fix) with some special Black Friday kegs on tap, including Olde Hickory's Event Horizon, Prairie's Christmas Bomb! and Tilquin Gueze. The bottle shop will also be handing out free donuts from Duck Donuts. Finally, there will be raffle tickets handed out until 10 a.m for the right to purchase a bottle of this year's Bourbon County Brand Stout.
BCBS will also be on draft at The Brass Tap in South End beginning at 11 a.m. and at Pintville in Pineville, which has kegs of 2015 and 2016 Bourbon County and is selling bottles at 10 a.m. Bottles are said to be popping up at a few other establishments; happy hunting if that's your thing …
–Speaking of Pineville, congratulations to Kit Burkholder, owner of the area's newest craft beer bar, Trackside Crafts. Located in downtown at 330 Main Street, the bar has 25 taps and a wide array of craft bottles and cans for sale. Burkholder made a mark in the local craft community, heading up the Ballantyne (Stonecrest) Harris Teeter's beer purchasing. That location always has a strong portfolio of local and top regional craft, along with a solid taplist, and Burkholder is to thank for that. Those relationships with local breweries and distributors should prove well for Trackside Crafts, which will be open Tuesday through Thursday from 4 p.m. to 10 p.m., Friday and Saturday from noon to 10 p.m. amd Sunday from noon to 8 p.m. You can keep up with all of their happenings by following the shop on Facebook.