Sugar and Spice: Holiday Fragrances
It's beginning to smell a lot like the holidays...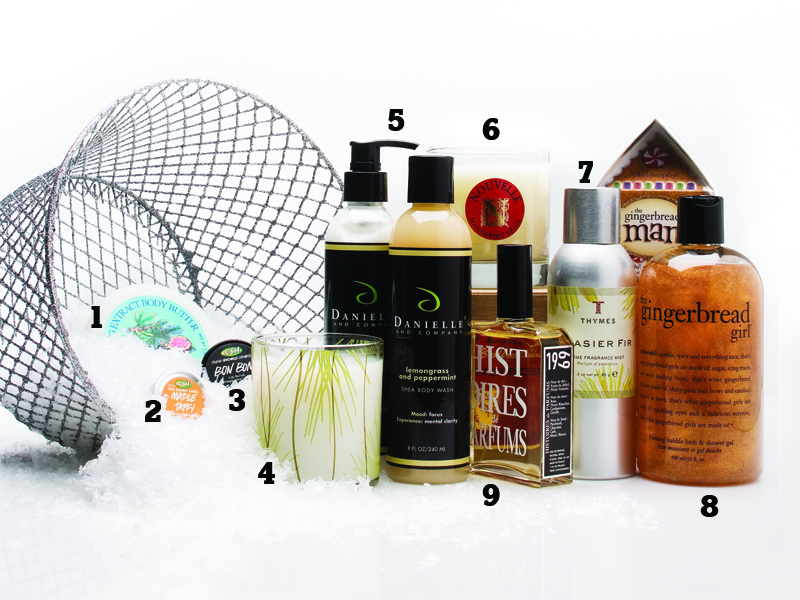 It's time to toss out the citrus and coconut fragrances and indulge in the cozy scents of winter with body and home products inspired by the comforting smells of the holiday season. Pamper yourself with warming aromas of fig and brown sugar, or infuse your home with cold-weather candles reminiscent of freshly cut firs and spicy mandarin. 'Tis the season for giving, so treat yourself to a few of these inviting holiday goodies.
1. Mediterranean Spa Body Butter in Fig, $12, Cottage Chic, 704-375-1888
2. LUSH Maple Taffy lip balm, $4.95, Lush.com
3. LUSH Bon Bon lip scrub, $8.95, Lush.com
4. Thymes Frasier Fir candle, $25.95, Paper Skyscraper, 704-333-7130
5. Danielle and Company by Green Goods hand & body lotion in Lemongrass and Peppermint, $16.95, Green with Envy, 704-344-8774
6. Nouvelle Candle in Mandarin Spice, $21.95, 3 French Hens, 704-366-1074
7. Thymes Frasier Fir Home Fragrance Mist, $15.95, Paper Skyscraper, 704-333-7130
8. Philosophy The Gingerbread Girl/Man foaming bubble bath and shower gel, $16 each, Nordstrom, SouthPark, 704-442-6000