Sugar Creek teaming up with BrewPublik for "Golden Ticket to Ride"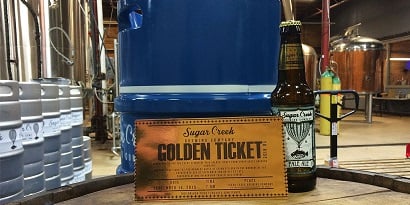 What if Willy Wonka's Chocolate Factory took place at a brewery instead?
That's the genius idea behind Sugar Creek's "Golden Ticket to Ride," in which four local craft beer fans will be selected as guest brewers for a day. Teaming up with local craft beer subscription/delivery service BrewPublik, it's all part of Sugar Creek's one-year anniversary in November.
BrewPublik will be delivering a gift box highlighted by the golden ticket, which asks the winner to come to the brewery to help brew a Belgian Tripel, which will be served at the anniversary party. Each winner will also get glassware, apparel and a custom Sugar Creek Brewing Company brewer's suit.
The boxes will be delivered sometime in the next several days, and the actual brewing will take place September 14. Via a press release, Sugar Creek president Joe Vogelbacher said "The first year in business is often one of the hardest for a company. In our case, the difference was made by our incredible team of operators and the huge amount of support we have received from the Charlotte craft beer community.
"As a small token of our appreciation, we have decided to unite the two key components of our success and invite a few members of the Charlotte craft beer community to meet our production team and brew our most anticipated beer, our Belgian Tripel. We couldn't be more excited to celebrate with the people who made our success possible."
In other Sugar Creek news, you'll notice the accompanying picture of the gift box includes a 12-ounce Pale Ale bottle. Look for those to hit the taproom and in local stores in the fall, which is right around the corner.
And in other BrewPublik news, this company might have won the season already by offering tailgate delivery for Panther games, where they'll bring you beer and (wait for it), Price's Chicken Coop. You can choose from four different beer delivery packages, don't forget to add the Price's to your order and BrewPublik will be at your tailgate in 30 minutes, or you can preorder to select your delivery time. Click here to learn more.