Sugar Plum Fairy: Anna Gerberich
Sweetness fills the ballerina's life, both on and off stage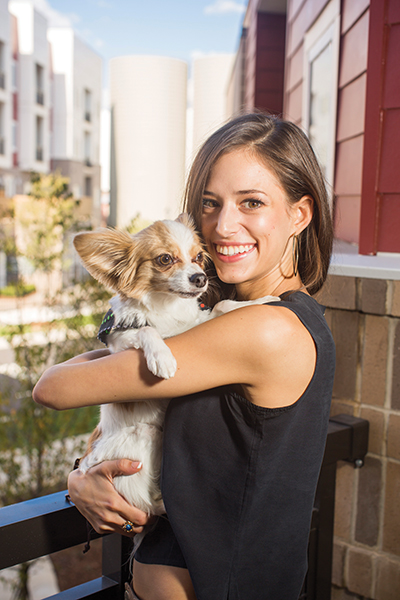 ANNA GERBERICH REACHES into the fridge for a tray of red velvet cupcakes. Plopping them onto the slick granite countertop of her South End condo, she offers them to guests. It's hard to believe this principal dancer for the Charlotte Ballet—even more waif-like in person, because street clothes hide her powerful body—spends hours in the kitchen.
"I love making people happy," she says with a smile. "There's nothing like seeing a face light up when you give someone a cookie." Intrigued by the science of baking, she's constantly experimenting with ratios and ingredients. She's baked for weddings of fellow dancers, and her vegan caramel corn has seen double duty as an hors d'oeuvre and as a favor for departing guests.
Gerberich moved to Charlotte a decade ago, when Jean-Pierre Bonnefoux, the artistic director of Charlotte Ballet (then known as North Carolina Dance Theatre) met her at a summer camp and invited her south. She was 15, and he was in Chautauqua—a famed New York community—to lead the dance program he started. "He sat me down and talked to me and asked, 'Where do you want to go?' " At the time, she was considering quitting ballet due to financial hardship. He wouldn't let that happen, and shortly afterward, she moved to Charlotte. Today, she's a star in North Carolina's oldest professional dance company.
She's faced setbacks, like when she broke her foot two years ago on opening night, and found love—she lives with fellow dancer Pete Walker. This month, she'll be dancing the role of Sugar Plum Fairy in Nutcracker. It's easy to see why the part suits her; it requires goodness and beauty and being at home in the Land of Sweets.
FAMILY JEWELRY // This gold mesh bracelet was her grandfather's. Gerberich treasures family pieces, including the diamond engagement rings worn by her great-grandmother, grandmother, and mother.
---
TUTU // As the Sugar Plum Fairy, Gerberich wears this tutu made by the company's professional seamstresses. "There are very specific rules about the tutu," she says. "You can't sit in it, you can't crush it in any way, and you can never eat in it!"
---
Baking // Marcy Goldman's A Passion for Baking introduced Gerberich to the craftsmanship behind desserts. "There are times when I open up the oven door and it's a disaster," she admits, "but when you open the door and it's perfect, it's just the best feeling." These red velvet cupcakes have cream cheese frosting.