Summer of Tunes: Recurring Live Music Events in Charlotte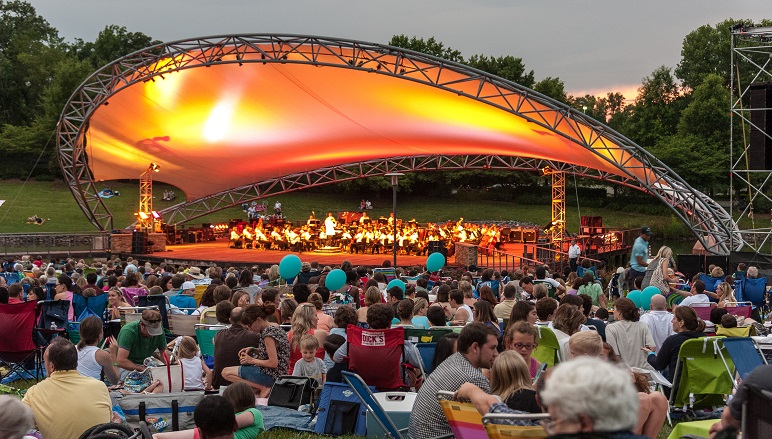 Last updated: May 21, 2015.
SURE, SUMMER is the time when you pack and leave town for a week or two. But it's also the season where folks come to see you, and when you're making plans to around both scenarios, it's good to know which weekly series you can count on being there when you need them. That's why the Revue blog has compiled a list of arts events, including live music, theatre, and more, that make up Charlotte's recurring offerings. We begin with Sundays at Symphony Park:
CHARLOTTE SYMPHONY: SUMMER POPS
(June 7-28) The symphony's Sunday concert series returns, with the energetic Albert-George Schram returning to conduct each week. Events include Tchaikovsky Spectacular, A Night at the Movies, and the culminating concert, Celebrate America. $12 for most concerts ($16 for July 3's Celebrate America). Prelude performances begin at 7 p.m., and the symphony goes on at 8:15 p.m.. Symphony Park at SouthPark Mall, 4400 Sharon Rd.
PARTY IN THE PARK
(through Aug.) Every Wednesday during these four months, you can head down to Romare Bearden Park for live music with an uptown backdrop. Bust out the lawn chairs and blankets, and take in music from Lakeside Drive Band, Swingin' Medallions, Band of OZ, and more. Free, 6 p.m. Romare Bearden Park, 300 S. Church St.
SIX STRING SATURDAYS
(through Sept. 5) This Discovery Place series, occurring every Saturday, promise music from "jazz, pop, rock, sitar, Celtic, country, bluegrass, and folk." Charlotte's School of Rock kids play three of the dates. You don't have to pay to get into the museum for this series. Free, 2 p.m. Discovery Place, 301 N Tryon St.
RIVER JAM
(through Sept.) On Thursday and Saturday, River Jam adds bands to the outdoorsman vibe of the U.S. National Whitewater Center. Check out the center's wide selection of food and beer to go along with the tunes, from bands like Mingo Fishtrap and Jamie McLean Band. Free, 2 p.m. U.S. National Whitewater Center, 5000 Whitewater Center Parkway.
ALIVE AFTER FIVE
(through Aug. 27) Bands like Simplified and Departure take to the Epicentre's Rooftop Stage. If you're hopping around uptown on Thursday nights, it's a way to get some free entertainment and keep the momentum going. The Beer/Wine Garden is a new addition to this returning series. Free. 5 p.m. Epicentre, 210 East Trade St.
FRIDAY LIVE! AT THE FACTORY
(through June 26) This series offers some of the biggest names of Charlotte's weekly programs, with Shovels & Rope and Surfer Blood among the names in Fountain Plaza's roster. Keep a watch, though; this is also one of the shorter series available. $8, 6 p.m. Fountain Plaza at NC Music Factory, 1000 NC Music Factory Blvd.
PROMENADE ON PROVIDENCE
(through Sept. 25) This series, on Fridays and Saturdays, rotates between music and kids' movies. Out on the lawn, check outs acts like Stella Rising and Borderlyne. Films include Maleficent and Planes: Fire & Rescue. Free, 7 p.m. Promenade on Providence, Providence Rd and I-485.
STONECREST SUMMER CONCERT SERIES
(through Sept. 26) This Friday/Saturday program has two stages for the Saturday portion: the Fountain Stage and the Plaza Stage. Both Brubakers and Greg Lilley Band tackle multiple dates throughout the series. The latter only Free, 7 p.m. Stonecrest Shopping Center, Piper Glen Estates, 7900 Rea Rd.
BLAKENEY CONCERT SERIES
(through Aug. 29) Taking place between Encore and Brixx, hit the fountain stage for bands each Friday and Saturday. Heroes At Last, Loafers, Natty Boh, and DJ Chuck are among the acts who add some music to the Blakeney experience each week. Free, 7 p.m. Blakeney, Blakeney Park Dr.