Sunday Is Now Party Time in Charlotte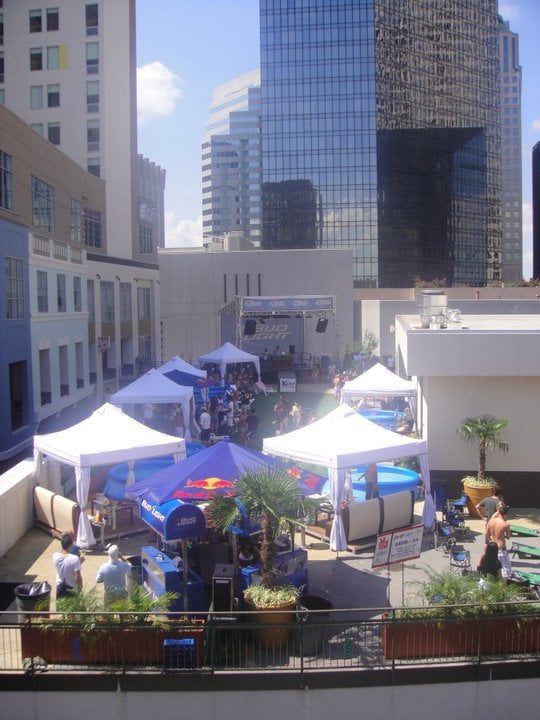 I remember a time in Charlotte just a few years ago, when if you wanted to go out on a Sunday, there weren't many options. Now, not only do many of the bars in uptown open their doors on the Sabbath day, but some of them have creative ways to convince you to party at a time when you might ordinarily be kicked back, dreading the start of the work week. Here are a few parties and events you can enjoy on Sundays this summer.
Barefoot at RE:PUBLIC
Kicked off in June and held on the second and fourth Sundays of the month (including this Sunday, June 26), it's a brunch party. From noon to 5 p.m., you can enjoy a $20 all-you-can-eat buffet and $10 bottomless mimosas, with music by Greg Pappanastos. The name Barefoot reflects the fact that faux grass has been laid out onto the patio and you might get comfortable enough to kick off your shoes. Counter Culture (patio at RE:PUBLIC), 314 N. College St. republicofcharlotte.com.
SOAK Sundays at The Pavilion
After a wild party last summer, SOAK Sundays return this Sunday and will be held every other Sunday through August (June 26, July 10 and 24, August 7 and 21). The rooftop of the EpiCentre becomes a shore-side party in the heart of the city. Expect to get wet, along with music by prominent DJs, bikini fashion shows, plus food, and import specialty and craft beers at Biergarten. There will also be games such as ping-pong, bocce, corn hole, limbo, twister, and more. StrikeCity will host the official after party immediately following each SOAK Sunday. 12-7:30 p.m. $10. The Pavilion at EpiCentre, 210 E. Trade St., pavilionatepicentre.com.
S.I.N. Sundays at Town Tavern
The name of the event is an acronym for Service Industry Night, but with its drink specials there's probably some other sinning going on. The $2 beer specials, $3 vodka drinks, $5 Red Bull and vodkas, and $5 Jägerbombs are offered each Sunday, so twenty bucks should be enough to reach your limit. And if you happen to run into your favorite bartender enjoying her night off, be sure to buy her a drink. 4 p.m.-2 a.m. Free. Town Tavern, 200 N. Tryon St., towntaverncharlotte.com.
Super Fresh Sunday at Luna
After more than a yearlong run at Kiss Lounge, the promoters of Super Fresh Sunday recently moved the weekly party to Luna Lounge and it hasn't skipped a beat. With hip-hop blaring, and a mostly twenty-something crowd, they party like there's no work the next day. 10 p.m.-2:30 a.m. Free. Luna Lounge, 521 N. College St. lunacharlotte.com.