Super Bowl LI Parties in Charlotte
No, the Panthers aren't vying for the Super Bowl this year, but that's no excuse to not celebrate.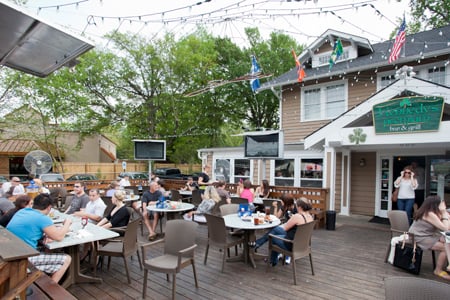 My, my, what a difference a year can make. Last year at this time, how joyous were we all for our beloved Panthers. Super Bowl-bound, and, boy it felt good. Take solace in knowing Monday morning won't hurt so much afterward because there's a 100-percent chance the Panthers won't lose this one. The Atlanta Falcons take on the New England Patriots Sunday at 6:30 p.m. While the Panthers' exclusion from the game means Charlotte bars have planned a bit less this year than the red carpet treatment they laid out last year, here's a list of some of the best bars in Charlotte at which to watch Super Bowl LI and what they have planned for you. See y'all out there!
ALL AMERICAN PUB
You'll have plenty of places to watch the game on one of this bar's more than 30 television screens. Specials today include $1 mimosas and $3 Corona Light drafts and Negro Modelo cans. All American Pub is at 200 E. Bland St., and it opens at 11 a.m.
For $6, you can watch the big game at this swanky nightclub and have access to drink specials, hookah, music, giveaways and complimentary appetizers. The doors open at 5:30 p.m. to this party at 1440 S. Tryon St.
DILWORTH NEIGHBORHOOD GRILLE
If you haven't seen the basement of this bar, have you really lived yet? Drink specials today include $4 Bloody Marys and mimosas; $15 beer buckets and a $5 cocktail, $4 shot and $3 beer of the day. Dilworth Neighborhood Grille opens at 10 a.m. and is located at 911 E. Morehead St.
This Uptown beer and music hall is offering an all-you-can-drink ticket to its Super Bowl party tonight for $22. For an extra $10, you can add on a plate of barbecue. Flight, 314 N. College St., has more than 10 televisions to watch the game on, and this spot opens at noon.
KENNEDY'S
This Elizabeth spot at 366 N. Caswell Road offers $15 buckets of six Miller Lite, Coors Light or Bud Light bottles; $4 Great Lakes pints and $5 game day shots. Kennedy's opens at 11 a.m.
The doors open at 5 p.m. for this party. Reserve your space now because, for a limited number of partiers, Lucky's is giving away its chicken wing and appetizer buffet for free. Otherwise, you'll pay $25 to feast here. Lucky's is at 300 N. College St.
LUCKY DOG BARK AND BREW
If you want a puppy pregame to the actual game, this is your spot. Lucky Dog is partnering with the Greater Charlotte SPCA for this event fun event that includes a raffle, giveaways and drink specials. Lucky Dog Bark and Brew is at 2220 Thrift Road, and there's no admission fee to this party.
STRIKECITY
As the Panthers aren't playing this year, perhaps you don't have to pay too close attention to the football game and leave a little to your bowling game. Drink specials at this bowling alley/bar today include $3 Budweiser bottles, $3 Bud Light drafts, $4 Goose Island drafts, $5 3Olives vodka and $6 1800 Tequila shots.
Just to reserve a bar stool at this EpiCentre spot, 210 E. Trade St., you should prepare to fork over a hefty $24. That ticket price doesn't include anything else, but the specials tonight include $4 Fireball, $1 select beers, 50-cent chicken wings and half-off nachos. Whisky River will also have giveaways every quarter, including a pair of Carolina Country Music Festival tickets in the fourth quarter. The folks at this party are collecting food for Second Harvest Food Bank, and when you arrive, you'll receive a $5 gift card for every two cans you donate.
Verify dates, times, prices, and other info at the web addresses listed for each event.
Be sure to bookmark www.charlottemagazine.com/Blogs/Dusk-Till-Dawn to stay plugged into Charlotte's nightlife and social scene. Click here to sign up to receive the weekly Dusk Till Dawn e-newsletter.
Want your event featured in Dusk Till Dawn? Send me an email at dusktilldawnblog@gmail.com.