Supper Club: Reid's Fine Foods
Reid's delivers Southern classics and a touch of exclusivity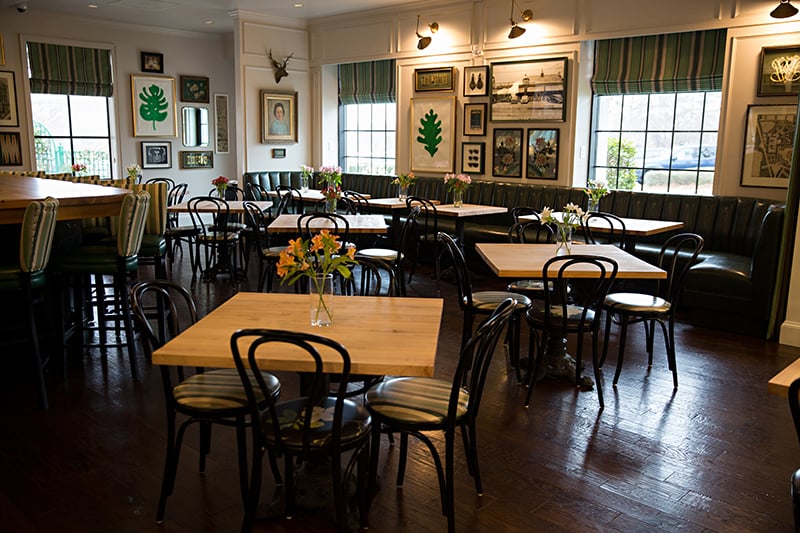 FOR A MINUTE, I forget we aren't sitting in the dining room at a private country club.
The dark, wood floors and kelly green accents on the booths and tables. Attentive—but not overbearing—service. A simple, well-executed menu. Set against the crisp white walls lined with shelves of wine glasses at Reid's Fine Foods, it feels as though this all belongs somewhere that requires a membership.
Reid's, a Charlotte institution that built a reputation in Myers Park (and, from 1998 to 2010, in uptown) as an upscale specialty food store, excels at remixing Southern classics in the restaurant attached to its new SouthPark location.
Start with the Maryland Style Seafood Dip ($15), a hot bowl of shrimp and crab mixed with cheese, artichokes, and spinach, served with house-made chips and Parmesan-crusted toasts. Continue the seafood theme with the Low Country Oysters ($14), which are fire-roasted and topped with a corn and okra mignonette.
I'm especially impressed by the Quail and Waffle ($16), an upscale take on chicken and waffles, a serving of two fried quail perched on a bacon-chive waffle. It comes with a cup of syrup infused with vanilla and bourbon, which I've decided would be good on just about anything. My humble plea to Reid's: Bottle that stuff and sell it.
Reid's also makes a solid burger—a mix of ground filet, rib eye, and sirloin—best paired with fries or potato salad ($14) and a draft beer. The night we visited, the bar was pouring beers from Sycamore, Birdsong, and Wooden Robot, among other Charlotte breweries.
The large patio will be packed on warm spring nights—especially Wednesdays, when Reid's offers half-priced wines by the glass from a wine room that connects the restaurant to the grocery. I've always enjoyed getting lost among the cheese and meats and specialty foods at the Myers Park Reid's, and I could easily spend an hour gazing into the case of prepared dishes at the deli and butcher counters at the new location, too. But it would be a mistake to miss the restaurant and its slice of exclusivity, even if it lasts only for a meal.
Reid's Fine Foods
4331 Barclay Downs Dr.
704-377-7686
Entrees: $10-$24
L, D, BR, BW, P
---
This article appears in the March 2016 issue of Charlotte Magazine
Did you like what you read here? Subscribe to Charlotte Magazine »
---