Support the Panthers in Style
Local options for team apparel will set you apart from the crowd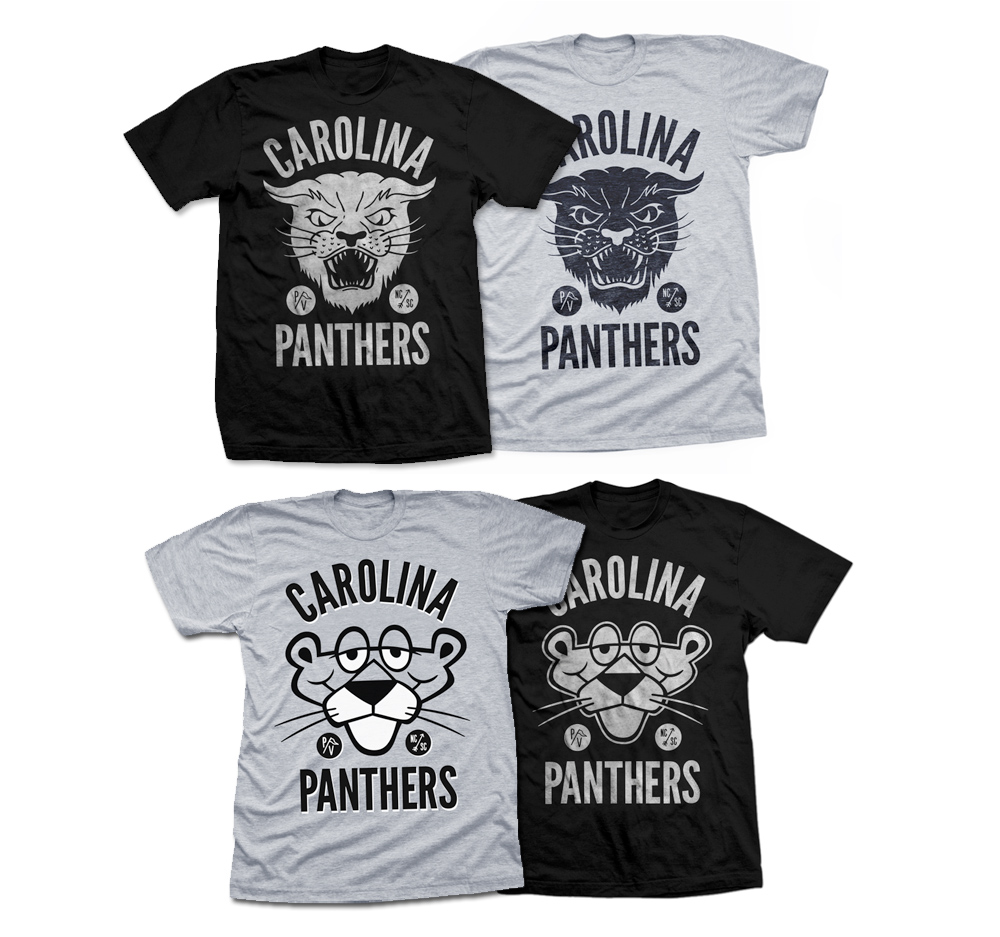 The excitement is palpable as the Queen City prepares for the Carolina Panthers to take the field against the Seattle Seahawks on Sunday. Finishing the regular season with a 15-1 record and heading to the Playoffs is huge for the Panthers and for Charlotte. Tailgate plans are set, tickets have been purchased, reservations at local sports bars have been made, but what about the fashion?
While there may be some on the field and off the field with superstitions such as not shaving, wearing the same shirt, or even the same pair of unwashed socks, other fans may want to get something new to show his/her Panther pride.
In addition to shopping at the Panthers Team Store at Bank of America Stadium, fans have more local options for unique team apparel that will make them stand out in a sea of jerseys.
Permanent Vacation
Formed in 2010, Permanent Vacation is a collective of creative individuals ranging from designers, artists, musicians, and photographers to name a few. Offering an assortment of apparel options, their Panthers inspired shirts have been seen at games and tailgates around the Queen City.
"We created our original Panther shirt back in 2012 out of our collective disdain for typical sports merchandise, but we still wanted to support our home team," says Kevin Taylor, Permanent Vacation collaborator and creator of the Panthers inspired apparel. "The Pink Panther design came about this year as another way for people who wanted to support their local team but don't really like 'sports gear'."
Permanent Vacation apparel is sold primarily online, but can also be found locally at Black Sheep, CLTCH, and at The Spoke Easy. They also have a studio and showroom located in NoDa that is by appointment only.
704 Shop
The 704 Shop started as an answer to a question asked by co-founder Scott Wooten, "why does every other major city have clothing brands that represent their city's pride but Charlotte doesn't?" College roommates at University of North Carolina at Charlotte, Wooten, Jerri Shephard, and Christopher Moxley decided to answer that question by creating a clothing brand to represent Charlotte.
"Our Panthers inspired merchandise comes from just being a fan of the Panthers," says Wooten. "Ideally, we want people to wear our 704 Logo shirts in Panther colors to the games. It's an easy way to rep both Charlotte AND the Panthers."
Currently 704 Shop merchandise can be found exclusively online, but be on the lookout as they regularly do many pop up shops around town. In the spirit of the Playoffs, the 704 Shop has released a limited edition 704 Shop Logo Tee in Panthers colors. They will also soon release an exclusive "Playoff Pack" of new shirt offerings for the Playoffs and beyond.
Little Earth
Founded in 1993 by Rob Brandegee and Ava DeMarco, Little Earth Productions was started with the goal of creating cool, well-designed products that would appeal to all types of fans. What started out as a home-based business – with the young couple making fashion accessories from recycled materials like inner tubes, license plates and bottle caps –now has licenses with more than 170 teams including the Carolina Panthers.
"Panthers fans are as passionate about fashion as they are about football," says Rob Brandegee, CEO of Little Earth. "They want items that allow them to show their Panther pride."
Little Earth's unique brand of Panthers apparel can be found locally at Cardiac Sports, at local Bed Bath and Beyond stores, Dick's Sporting Goods, Lids, and online.