Surprise Act
5 ways to show love to the groom on your wedding day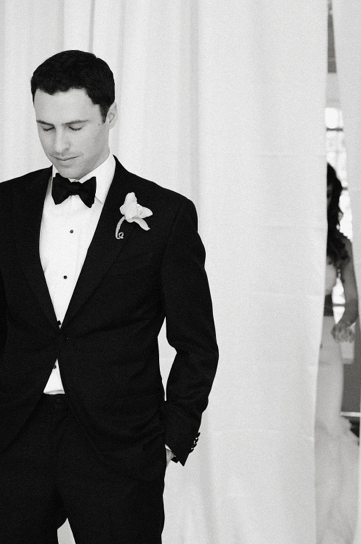 All too often the wedding day becomes the bride's day. With a never-ending list of girlie-centered details that go into planning nuptial festivities, this is no surprise. So that's why it's so refreshing–and super thoughtful, to plan a little something unexpected for the groom. It need not be extravagant or pricey. In this case, it's most definitely the thought that counts. Use the pre-ceremony time apart to deliver something special to him for an added reminder of your love and affection. Of course we've all seen the hand-written notes or sweet text messages done before. And not that these aren't sweet or significant (never underestimate the power of a letter), but in this case, I'm advocating a more out-of-the-box gesture. So here are a few ideas I've come up with for your choosing–and you can take all the credit!
Delivery Service
Since you'll be getting ready with your 'maids and he with his 'men, call in takeout or delivery from his favorite restaurant for the guys to have for lunch. Or if you're out of town, any place that serves his favorite food will do the trick as well.
Fit To Be Tied
Confiscate his neckwear the day before the wedding and have a sweet saying or inside joke stitched on the inside. When he's putting it on the day of the wedding, he'll be pleasantly surprised and touched by the gesture.
Just Boys
Just like a bit of pre-wedding QT with mom is special to you, father-son action works the same. Why not arrange for an early morning activity for just him and his dad–maybe it's an hour at the country club driving range, or a breakfast reservation. He'll be spending majority of the day with his groomsmen, and since this day is just as sentimental to him as it is to you, a pre-arranged activity with dad will be so meaningful.
Picture Perfect
This one works especially well if you're the traditional couple who is spending the night before the big day separately. Schedule a boudoir shoot and have your favorite photo printed and delivered to him the morning of your wedding.
A Night To Remember
While we're all familiar with 'something old' or the standard bouquet charm to keep a lost loved one in mind for the bride, we don't often think of the groom. Talk with his family and see if there's a special item from someone in his family who has passed. Maybe it's his grandfather's timepiece, or a tie bar. Wrap up the item with a little note and have it delivered to his room in the morning. Another option: sew a small charm of the person's initial into the interior of his jacket, or print a picture of the two of them and slip it into a leather luggage tag he can tote on his honeymoon luggage.