Sweet Jane
Jane McIntyre is doing her best to transform the local United Way, one miracle at a time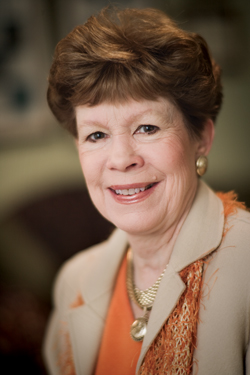 Jane McIntyre used to be the kind of person who's always prepared. You know the type: prepped for every detail, primed for every discussion. "One of those people who always, always took notes," she says, smiling a little now at the recollection. "And memorized them."
These days, though, it's a different story. McIntyre's winging it, and the irony doesn't escape her, because, suddenly, she's winging it when every word matters.
The sixty-three-year-old veteran of nonprofits is trying to resurrect the reputation of one where her infamous predecessor profited, well, abundantly, and it's hard to think of a more important job when you fully understand how many desperate people need her to succeed at it.
So, of all the times to throw her fastidious ways to the wind …
McIntyre will never forget her first day as executive director of United Way of the Central Carolinas. Outside headquarters, on South Brevard Street, local media lined the sidewalk, ready to bombard her. And inside, almost a hundred employees were waiting, squirming, looking to her for direction. "I didn't have time for notes," she says. "I had to address them, and it had to be from the heart. So I said a prayer, and the right words, the real answers, just came out. I've never experienced anything like it."
Since then, however, she says she's experienced it again and again—the perfect pitch tumbling from her mouth, like magic. Or a miracle. "God is speaking through me," McIntyre says. "I truly feel led to this position."
Almost 100 local charities depend on the United Way for funding, so you can imagine God might have a vested interest. But before you go calling McIntyre an angel, catch the impish twinkle in her eye when she talks about taking United Way from the kind of place that would make former Executive Director Gloria Pace King a millionaire to the kind of place people can actually trust with their donations. "Oh, it's great fun to take apart the layers of bureaucracy," McIntyre says, the corner of her mouth twitching.
Donations at United Way plummeted due, first, to the King scandal, and second, to the recession. Over the summer, King was fired and McIntyre brought in, because she'd recently brought life back to the YWCA after it, too, was close to folding—a million bucks in debt, and staffed, she says, with dysfunction. Of course, the YWCA wasn't utterly disgraced.
Still, the similarities were striking. And YWCA's chief financial officer told McIntyre she saved it "because you didn't let the bad things drag us down," McIntyre remembers. The comment stuck with her, and she intends to do it again: fend off the bad things. This time with a little divine intervention.
"It's strange, but this is a wonderful opportunity for me," McIntyre says. "I think a lot of people wouldn't have touched it. But I know it's right for me. I know it's right," she repeats. "I don't think I've ever been this excited or had this much enthusiasm." And a big reason why is because, she says, she's never felt God so close to her. So what does He tell her to say? How is He helping her win back the faith of employees, volunteers, and, of course, donors?
McIntyre recently stood before a group of about fifty straight-faced lawyers at K&L Gates, a big, international firm located high in the Hearst Tower. Brightly colored balloons bobbed around her, stamped with the slogan "Live United."
"I can tell you that this year is going to be the toughest for nonprofits we've seen in our lifetime," McIntyre told the group, drawing on all five feet of her stature. "Our agencies are really struggling to survive."
And then came an onslaught of questions so sharp, you half expected the balloons to start popping. Pointed questions from a disenchanted group looking for a reason to give her not only their billable hours this autumn morning, but a portion of their hard-earned cash, too. Questions about allocation and accountability, and King's "creative accounting." Questions that all amounted to one thing: "why should we trust you?"
McIntyre's answers were long, chatty, and confident. Answers focused on the administrative and cultural changes she was making, and the reasons why she was making them. They were answers that worked like magic. Or a miracle. And they all amounted to one thing: this woman's so full of faith, she can't lose her cool.
"She's very sincere, there's no doubt
about that," says K&L's Pat Stachura. "Certainly there's been a great deal of skepticism," the lawyer adds with a sigh. "So what we're looking for, really, is a commitment to having that confidence reinstalled. Commitment and capability." And after hearing her speak, "Jane's got that, and more," she says. "She's a welcome addition."
Gene Pridgen is an administrative partner at K&L, a United Way board member, and this year's campaign chair. And his praise for McIntyre is overflowing. "Her focus on the need is very important," he says. "Her focus on regaining trust is very important. She inspires trust." Because of her, he says, he'll keep volunteering. And donating.
Of course, there has to be more to McIntyre's job than divinely inspired speeches. She has a broken organization to fix, and some of the solutions she told K&L about were nothing if not gritty.
When McIntyre, a Rock Hill native who's married and has three daughters, came on board at United Way, she and the board immediately decided to slash overhead, and that meant laying off forty of ninety-seven staff members. "That was hard for them," she says, "that, on top of having to have carried around this huge sense of embarrassment at being a United Way employee. They took a lot of grief. But still, how they've stepped up," McIntyre says proudly. "From the first day I walked in, they've been wonderful. There's always good that comes out of every difficult time," she adds. "The staff was forced during challenging times to really come together."
Shannon Young, a vice-president with the local United Way, says McIntyre's goals have been to build trust, and to be more donor and agency focused, and that she's "engaging employees" in the process.
"We're really just at the beginning stage," Young says, "but I think it's safe to say there's a lot of excitement, hope, and inspiration for this organization's future, and that we can all contribute to this community's well-being."
After cutting employees and salaries, McIntyre managed to shave $3.1 million from United Way's costs (she, by the way, makes $142,000, which is approximately half of King's base salary in her final year). And other immediate changes will be big, too. McIntyre decided to make funding, for example, simpler this year. In past years, due to agreements with large employers, some monies donated through employee giving campaigns left the area. This year, the United Way, for the first time, only set a goal for the Community Care Fund—and those dollars don't leave the area. The goal is $22.7 million, or $1 million more than the Community Care Fund raised last year. "No money shipped out to other regions. We're just looking for dollars for this community." She says that's important because she's working locally to regain trust.
"One person at a time," she says. "One group at a time."
In a huge show of support, the Leon and Sandra Levine Foundation has promised a dollar-for-dollar match, up to $1 million, of any contributions above last year's collection of $21.7 million.
"So if we can raise $22.7, we can access $23.7 million," she says. "I think the community will step up. In fact, I've already been amazed," she says, "at both the community's attitude, and, quite frankly, the support from corporations. I've just said, 'Give us a chance,' and they have, even in this economy."
McIntyre says she won't have a handle on how much United Way has raised this year until after this article goes to print, and she wouldn't offer any figures. But she says she can feel that fundraising is working in the same way she can feel the change already achieved at United Way, she says, simply by entering the building. "I see people smiling," McIntyre says, smiling herself. "I hear laughter in the halls."
Other changes include working with the United Way board "on a new charter, new policies and procedures, and a host of other things," McIntyre says, "so that we do business in a more transparent, effective, and orderly way."
McIntyre won't say much about King. "I worked very closely with her in the past," she says, unemotionally. "I used to be a volunteer here myself. But I think it's probably not appropriate to talk about it," she says. "I prefer to focus on the present and the future."
And as for that, "It's a huge job," she admits. "Huge. We'll have to engage agencies, volunteers, staff, corporations. It's a large process to reinvent something like United Way. But I think in a year, a year and a half, people will be amazed at our transformation."
Of course, for now, all we have to go on is McIntyre's word—and her faith. No one we spoke to for this story doubted her, perhaps because there is a palpable community will for her to succeed. That doesn't mean she won't fail. But if you ask her, she's off to a good start. And, she says, you can trust that the dollars given will go where donors want them to go. So, in a way, the organization has already been transformed. Like magic. "Or a miracle," McIntyre says, laughing.
Melissa Hankins, who is a reporter for WBTV and a longtime contributor to this magazine, profiled John Lassiter for the October issue of this magazine.