Sweet Lew's BBQ Opening in Belmont Neighborhood This Fall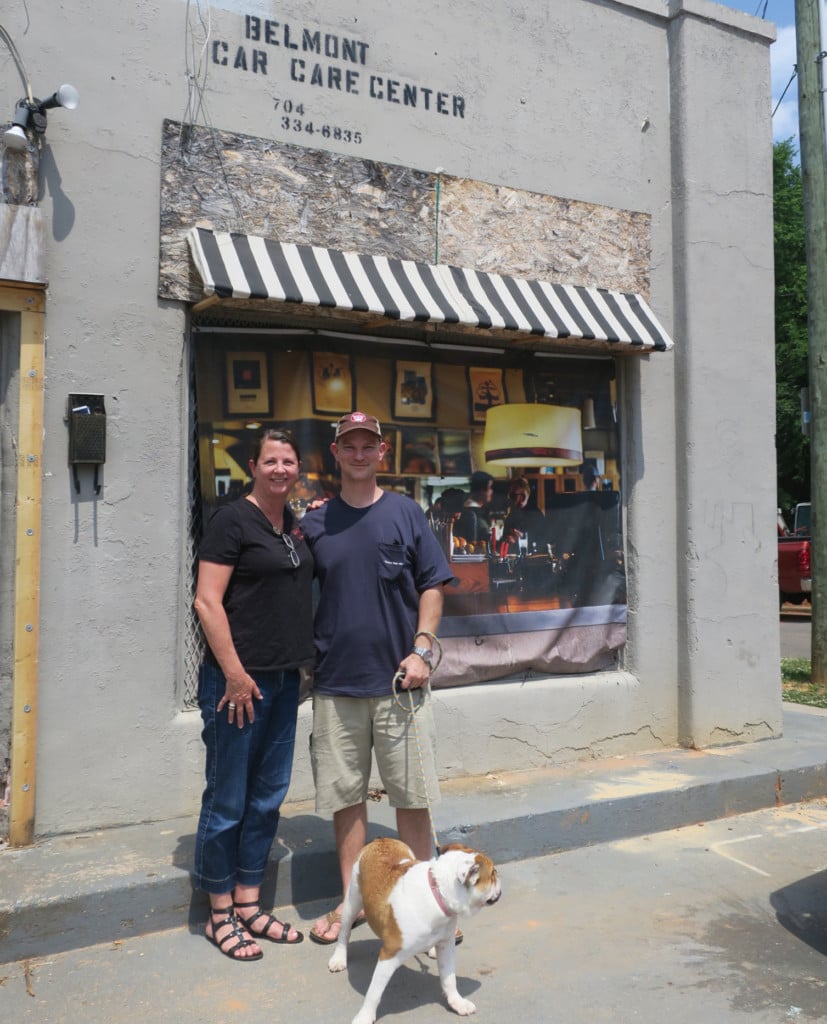 LEWIS DONALD LOOKS OUT the door of an old mechanic shop in the Belmont neighborhood and pictures a line of customers waiting for barbecue. The former Reid's Fine Foods chef has finally found the location for his barbecue-til-it-runs-out joint, which will be called Sweet Lew's BBQ. It's an old mechanic garage in the Belmont neighborhood, on the corner of Belmont Avenue and Harrill Street.
Construction began in August, and Donald and business partner Laura Furman Grice hope to be open in October. Though Charlotte has several full-service barbecue restaurants, Donald believes that every Southern city should have a place where you wait in line for meat fresh out of the smoker. So far, we don't.
"In that barbecue world, that's hard to believe," Donald says. And though Sweet Lew's will be new, Donald and Grice hope to create a place that feels like it's always been a part of the neighborhood.
Little will change from the façade of the building. One of the existing garage doors will become a window door that opens to the patio; the other will likely open halfway with seating on the inside overlooking the patio. The small entrance will be a continuation of the line, funneling guests into the door, past a beverage cooler, and into a hot then cold station, where they'll select their meat—pork, chicken, or ribs—then sides. Just past the cash register is the entrance to a dining room, which will have room for almost 40 diners and be air conditioned. The outside patio will fit about the same number, in addition to some picnic tables behind the restaurant.
The dining's rooms existing brick will be sealed or repainted, but not covered, and most of the original light fixtures will remain, helping to give Sweet Lew's the vibe that it's always been there.
The barbecue will come from two Lang smokers out back in a tin-roof covered barbecue shack. Donald says he plans to use hickory and pecan woods, as well as peach wood when it's available. The menu will be simple—three meats and five seasonal sides daily, with weekly specials, such as fish fries on Friday and prime rib on Thursdays. And on Sunday, when Price's Chicken Coop is closed, they'll serve fried chicken.
Grice, a Charlotte native who calls Sweet Lew's her passion project after a career in financial services, says they want the place to have a family-friendly feel with good food and familiar faces. One touch I admire: as much as possible will be eco-friendly, from the servingware and plateware to biodegradable to-go bags.
In an earlier conversation with Charlotte magazine, Donald and Grice were also considering opening in NoDa. The Belmont space they're leasing is owned by Frank Scibelli and John Lambert's 919 Belmont Ave. LLC. The building on one opposite corner, also owned by Scibelli and Lambert, is still available for lease; Donald hopes it will become a market and wine shop. A space on another opposite corner is currently being renovated.
"This space gave us the most flexibility to be part of the neighborhood," Donald says.