Sweet Treat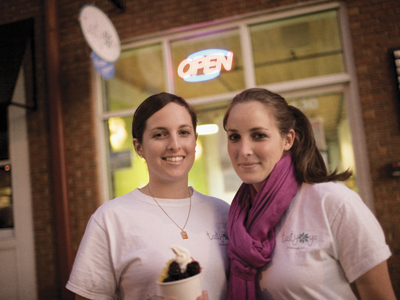 LOOKING FOR A GUILT-FREE snack to satisfy your sweet tooth? Head to NoDa's recently opened Tasty Yo. Owned by Raphael and Deborah Goldstein with their daughters Michelle and Stephanie, Tasty Yo's cold yogurt desserts are quickly becoming a staple in the hip neighborhood's dining scene.
The sweet-meets-tangy treat is made with a fat-free yogurt base featuring the same ingredients as regular yogurt that help promote healthy digestion. Each serving comes with a choice of three toppings. And these aren't exactly TCBY-style toppings. Try fresh combinations like honey mixed with seasonal fruit from local farmers markets and crunchy granola made in NoDa.
The Goldsteins are serious about supporting the community. While eating yogurt with the restaurant's biodegradable spoons, guests can enjoy music played by Charlotte-based musicians and even check out local artwork for sale on the walls. And the attention to their neighbors is paying off. "We're already on a first-name basis with people," says Michelle.
As the cooler months approach, look for a variety of soups to be served as well. Plus there will be seasonal toppings such as peppermint and gingerbread crumbs. 3116 N. Davidson St., Ste. 130, 704-333-455