Swimming with Coal Ash
Life around the corner from Charlotte's biggest environmental threat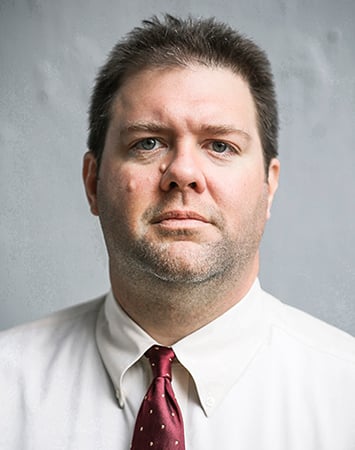 I'm strolling downhill with Kerry Hutton toward a pier on Mountain Island Lake. It's a warm, sunny afternoon in late February. Birds chirp. The sun sparkles on the water. It's obvious why Hutton and her husband, Chuck, bought a home here 13 years ago, on the Gaston County side near Mount Holly.
Greg Lacour on Politics
Their three grandchildren—ages 10, 13, and 15—live with them. They like to take Chuck's boat out onto the lake. "In summertime, it's like bathwater," Hutton says. "We do swim in the lake. That doesn't worry us. Most of the heavy metals sink to the bottom."
She's referring to coal ash. About a mile from the pier, around a sharp bend in the river, two enormous ash ponds take up 70 acres next to Duke Energy's retired Riverbend Steam Station.
Together, those ponds contain four times the amount of coal ash that their counterparts held at another retired Duke plant on the Dan River in Eden, roughly 130 miles north. On February 2, a corroded metal pipe under one of the Eden ponds ruptured, spilling tens of thousands of tons of ash into the river. The spill has drawn national media attention and a federal investigation of the ties Gov. Pat McCrory's administration has to Duke. McCrory worked for the company for nearly 30 years.
Hutton, a 54-year-old hospital consultant and Army veteran, is worried less about the political and criminal implications of coal ash than she is about the leaking reservoirs of toxic metals near her house.
For the first few years after she and Chuck moved in, they didn't even know what coal ash was. The residue from burned coal in steam plants, it's a fine ash that contains arsenic, selenium, mercury, and other toxic metals. The unlined ponds—with piles of wet ash rising 80 feet above ground level—are leaking into the lake in dozens of places. Environmental experts say a spill is inevitable. It's just a matter of when and how bad.
"Whether it's 100 years from now or tomorrow, you leave this stuff in place, it's going to have a failure," says Sam Perkins of the nonprofit environmental group Catawba Riverkeeper Foundation. "And for a substance as toxic as coal ash … propping it up 80 feet high next to a primary drinking water source is about the dumbest thing you could've done."
Duke and a private company have proposed moving about four million tons of ash from the lake to Charlotte Douglas International Airport for use as construction fill material. City Council members have agreed to study the plan, although they have some concerns. But environmentalists say wrapping, sealing, and burying the ash in reservoirs at the airport would likely be better than keeping it next to the lake that supplies 80 percent of Charlotte-Mecklenburg Utilities' water.
Should a Dan River disaster befall Mountain Island Lake, the result would be catastrophic, Perkins says. Homes like Hutton's might be inundated with toxic sludge. The Charlotte area, he says, would "go immediately into crisis mode," searching for alternate water sources. The environmental effects would be felt for years, not to mention the long-term health risks—including an increased risk of cancer—from exposure to coal ash.
"I think that's the thing people in Charlotte and Mount Holly don't understand," Hutton says from her porch that overlooks the cove. "They think, 'Oh, it's just a little pond filled with water.' They don't understand how deep these things are and that they're filled with heavy-metal sludge."
Since the Dan River disaster, many more people know about the threat coal ash represents. Any solution, even an imperfect one like the airport idea, would be better than waiting to move four million tons of toxic junk away from the place where Hutton and her grandkids swim.