Sycamore Brewing set for grand opening Saturday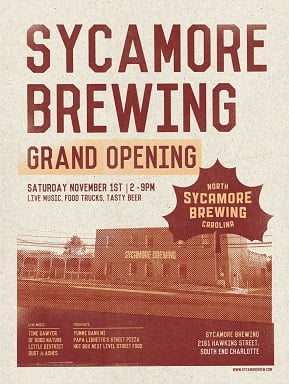 Justin Brigham's favorite moment of the day happens in the morning when he walks into Charlotte's newest brewery, Sycamore Brewing.
It's the simple sound of bubbles, but to Justin, that means beer is fermenting.
"To me, it's an awesome sound, and great experience," he says.
Justin and his wife, Sarah, are ready for Charlotte to get the full experience of Sycamore, as the SouthEnd brewery located at 2161 Hawkins Street will open its doors to the public for the first time this Saturday from 2 p.m. to 9 p.m.
"It's definitely been a journey and a long road," Justin says of the 7,000-square-foot brewery. "Signing our lease felt great but actually beginning work on the building felt so much better. Of course, getting the equipment on site was huge and it's been great to put the final touches on the taproom."
Formerly an old automotive garage, the transformation over the last year has been fun to see. For starters, the exterior of the building when you drive by is an inviting red with the brewery's name in huge letters. And walking inside brings an inviting feel, thanks to the design and ideas from Sarah Brigham.
"I want people to walk into the taproom and feel like it's their home away from home," she says. "We were going for a really warm and welcoming feel and I think we achieved that, which is really exciting. We love the high ceilings, and it was important for us to bring in some natural elements as well."
Those elements include wood on the walls from Pittsboro, N.C., an American flag from World War II that graces the wall opposite the copper bar and a single red brick on a shelf that bears the name "Brigham."
Sycamore co-owners Justin and Sarah Brigham
Then, of course, is the beer. Sycamore will be pouring five beers to start out, including Winchester, a strong ESB; South Mountain Cream Stout, brewed with chicory, cocoa nibs from Ecuador and local coffee from Not Just Coffee; and an oat pale ale. Sycamore will have 20 taps and gradually increase into a full lineup.
"We will bring barrels on, we'll do small batches as seasons change, we'll do seasonal releases," Justin says. "We also have a lot of pilot batches we'll work on. This is something we'll grow into.
"I'm happy to brew what people are enjoying and then put the next thing out to see if they'll like that more. I don't want to run a factory that churns out just one or four beers and then puts it to market. I'd rather be a place where people come in and try great beers that are different."
Justin, along with Jordy Smith and Drew Viapiano, will be responsible for brewing at Sycamore. Smith has a homebrewer's background and previously worked at Alternative Beverage, a local homebrew shop. His favorite beers include stouts, porters and IPAs, and adds "whatever everybody likes, I'll make it."
For Saturday's grand opening, Sycamore's five beers will be featured, and there will also be wine on tap. With a big crowd anticipated, the brewery will sell tickets, which you'll use to be able to purchase beer both inside and outside the taproom.
As part of the festivities, four bands – Time Sawyer, Of Good Nature, Little District and Dust & Ashes – will be playing throughout the day, while Yummi Banh Mi, Papa Libretto's Street Pizza and Hot Box food trucks are scheduled to be on site as well.
After a year of hard work getting everything ready, the Brighams say they're excited to officially join the Charlotte craft beer community and for the city to see what they have to offer.
"We've taken a lot of pride in staying small and trying to focus locally," Justin says. "I'd like it if people walked away from here thinking this is a great local brewery and a place we want to come hang out. Hopefully they'll come in here and have a good time and see it for the work that went into it, and have a fondness for the place.
"And the underlying part in all of this is we have to produce good beer. That's what really matters."