Symphony Donates Instruments to Charlotte Schools (Plus: This Weekend in Charlotte)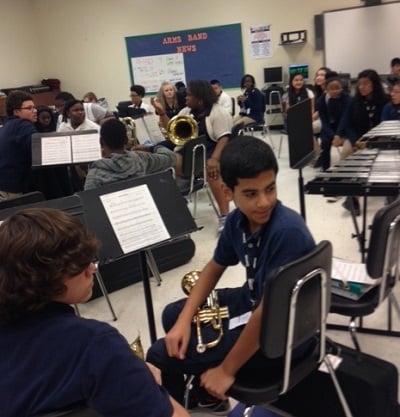 He wasn't Santa Claus, but Chris Stonnell did come bearing gifts for students at Albemarle Road Middle School and Sugar Creek Charter School. On Thursday, Charlotte Symphony's director of education delivered dozens of instruments to the schools, as part of Instruments for Kids. Instruments included brass, woodwinds, and a bass guitar. The donations help make a jazz or pop band at Albemarle Road Middle a reality.
Since 2012, the program has called for unused or broken instruments for redistribution in Charlotte schools. In the months leading up to their delivery, the instruments are cleaned and refurbished, packing Stonnell's office with black cases. Donations are also used for an after-school music program at Winterfield Elementary and the needs of the Youth Orchestra.
Sixty-five instruments have been distributed since Instruments for Kids kicked off, but the need continues across the district. The symphony accepts all sizes of orchestral instruments. You can drop them off at any of the group's Classics series concerts or the CSO Ticket Kiosk (located at Two Wells Fargo Center, 301 South Tryon Street). The symphony lists student-size violins and cellos as "critical needs."
If you have an old trumpet laying around your attic, consider a drive to Uptown. As for seeing some instruments in action, check out our weekend line-up of live music, theatre, and more.
FRIDAY
A SOULFUL NOEL
Charlotte's On Q Productions combines spoken word, dance, and music for A Soulful Noel. The story comes in three acts, with old-school holiday tunes distributed throughout.
FRONTIER RUCKUS
Sitcom Afterlife is the latest from this Detroit folk rock act. The band's garnered a steady following, but the gamer crowd hopped onboard when they saw the band's viral video, which featured a medley of Legend of Zelda themes.
THE GREAT AMERICAN TRAILER PARK CHRISTMAS MUSICAL
The Great American Trailer Park Musical was the original tale of Armadillo Acres, where trailer park tenants squabble and break out in song. The Christmas sequel, you can imagine, adds a holiday flair to the setting.
SCROOGE!
Ebenezer makes another appearance with this show, but expect a kid-friendly vibe with this version. The Children's Theatre of Charlotte is the group behind this production.
NUTCRACKER
This is the first Christmas for the Charlotte Ballet since its rebranding. More than 100 performers make their rendition a must-see, along with the signature snowfall for each performance.
SATURDAY
HEATH HYCHE
You may have seen him on TV shows like Two Guys and A Girl and The Tonight Show with Jay Leno, but it's on the road that Hyche has made his name in stand-up. The comic is sure to add some holiday-themed jokes into his act.
ANGIE APARO
Angie Aparo has penned huge hits with country stars like Tim McGraw and Faith Hill. Watch the singer-songwriter play his solo tunes at this Evening Muse show.
SATURDAY NIGHT CINE CLUB: A THOUSAND TIMES GOOD NIGHT
Erik Poppe helmed this drama, about a photojournalist who becomes addicted to capturing warzones. After an incident with a suicide bomber, her family convinces her to abandon her dangerous occupation. But will she stay out of danger?
SUNDAY
LOOKING FORWARD/LOOKING BACK
Levine Museum of the New South's latest exhibit centers on art from the upcoming CityLYNX Gold Line streetcar project. Glass pieces will be installed as back windscreens on the line's shelters, created as collages by New Orleans artist Nancy O'Neill. O'Neill worked with locals to track down historical and contemporary photos that represent each stop on the line. "They'll be able to contemplate the art and relive the history that Nancy has interwoven into the pieces," says Kati Stegall, art-in-transit program administrator for the Charlotte Area Transit System.