Take a Sip at Urban Sip
The Ritz-Carlton's new wine and Scotch bar has opened on the 15th floor.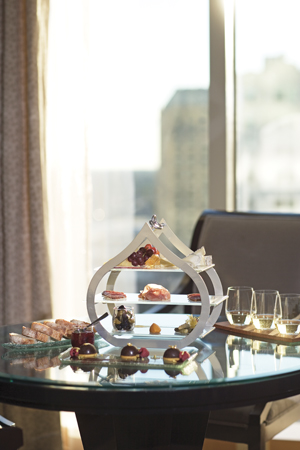 Request a table next to the window when you visit the Ritz-Carlton's new Urban Sip bar. While you can soak in the fifteenth-floor views from anywhere in the bar, there's no better place than next to the floor-to-ceiling windows to enjoy one of the ninety-seven premium wines available by the glass ($9-$39) or sip one of the thirty-five single-malt Scotches. The bar, which is open to the public, offers cheese and charcuterie plates, as well as small bites like smoked cheddar fritters ($6), served warm with a raspberry cabernet dipping sauce. All are perfect for pairing with one of the ten offered flights of wine, which range from $11 for a flight of simple reds to $55 for sparkling wines and champagne. While Urban Sip is ideal for predinner sunset views, a new dessert and coffee menu means you can indulge in house-made treats like organic carrot cake alongside French-press coffee as a sweet end to an evening uptown. Urban Sip, 201 E. Trade St., 704-547-2244.