Take a Sunday Walk
It doesn't matter how long, but it will go a long way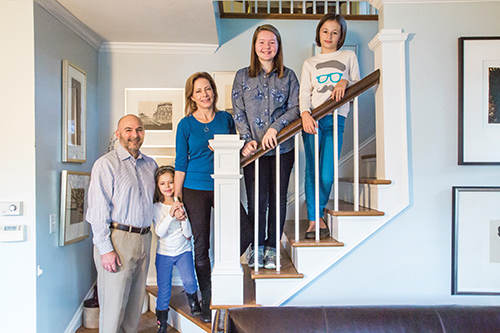 When I sat down with Holly Adams this past fall for a feature on her Elizabeth home in the winter issue of Charlotte Home + Garden magazine, I asked about her favorite time of day. She said Sunday afternoons. That's when she and her husband, Bryan, and their three daughters, Emmy, Molly, and Mia, take a family walk around the neighborhood.
It's harder to get all of the girls to go now, she said, but you could tell by the look on her face that it means a lot to her when it happens.
It's a simple thing, a Sunday walk, but in that intermediate time between winding down a weekend and revving up for Monday, it serves a purpose. It clears your mind, gets your heart rate up. And you might just see something you missed before, such as a sculpture or garden in your neighborhood that you never noticed.
If you're in the Elizabeth neighborhood like the Adamses, Independence Park is a meandering plot that you can pass through on your journey. And make a note for the spring and summer of the Mecklenburg County Cooperative Extension's teaching garden outside the offices on Armory Drive. The staff always has something of interest in season. The Light Rail Trail and Sugar Creek Greenway are great for people-watching and spotting public art. My recent city travels included a trek through the UNCC Botanical Gardens; the Susie Harwood garden has a collection of plants that are particularly interesting during the winter. And if you're in Eastover, don't forget what a treasure it is to have the grounds of the Mint Museum Randolph as your neighbor. The museum gardens are now filled with bright red berries.
Today's weather is nasty, but Sunday is supposed to be sunny. Wherever you go, take advantage of that Sunday afternoon walk. And if you find something interesting, let us know.