Take a Taste of Europe
A couple in Matthews serves up traditional Polish dishes in an inviting atmosphere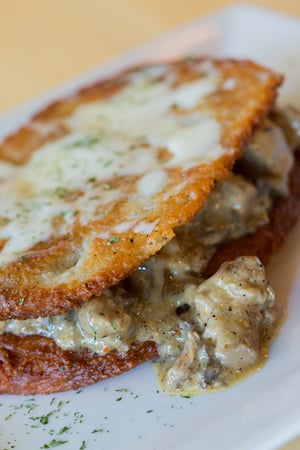 MINUTES BEFORE CLOSING on a Wednesday night in February, a family of five is still seated around a corner table at Taste of Europe Polish restaurant. They are the only people in the dining room, but they are laughing and lingering, so the owners are in no rush to kick them out.
"OK, sweet pierogi," says a petite blonde with a European accent, lowering a plate of dumplings to the table.
Husband-and-wife Michal and Agata Przyk opened Taste of Europe in May 2013 in a no-frills strip mall on Monroe Road in Matthews. The small exterior is nothing special, with a nail salon next door and a tattoo parlor down the way.
Inside, the restaurant is small—eight tables fill two rooms. But the décor, accented in black and red and photos of travel-book landmarks—such as Malbork Castle, the world's biggest castle, in Malbork, Poland—is charming and welcoming.
Michal and Agata met six years ago at an apartment complex swimming pool in Myrtle Beach, South Carolina. Both were born and raised in Poland and ended up on the South Carolina coast as adults—Agata for business studies and Michal for a job.
"She was talking on the phone and I overheard that she was speaking in Polish," Michal says. "So I walked over to talk to her."
"I was talking to my mom!" Agata adds. "It was actually kind of weird."
Both laugh as they recall the moment that brought them together, saying the shared language was comforting and reminded them of home. They started dating and eventually married. Michal says they were already considering a move ("Myrtle Beach is more of a tourist place.") when a friend from Charlotte visited them and raved about the city. They decided to give it a try.
Like many transplants, Michal and Agata shared the usual reasons why they wanted to stay put in Charlotte. "I like that it's a growing city," Agata says. "The weather is good. And," spoken like a true Charlottean, "you're two hours from the beach and the mountains." But as much as they liked their new home, they missed the comfort foods they grew up eating. "There is actually a large group of Polish people here," Michal says, "but no one could tell us where to find traditional food in Charlotte."
They began looking for locations to open a Polish restaurant. They chose this spot, just outside Charlotte, because they had room to grow here. "It took a little time," Michal says, "but eventually, people started coming back."
The menu serves dishes improved over generations. "This is the same food my grandmother would have cooked," Michal says. He spends his time in the kitchen, cooking, while Agata greets the guests. One of customers' favorite menu items, potato pancakes, was originally a side dish. But Agata says customers began requesting it as a starter, so it was added to the appetizer menu. Pierogi—served sweet, meat-filled, with potato and cheese, or spinach-stuffed—fill another part of the menu, while larger plates, such as kielbasa z grilla (grilled Polish sausage with sauerkraut), dominate the entrees.
Other hearty dishes include klopsy w sosie pieczarkowym (mushrooms in a meat sauce) and Hunter Stew, a seasoned stew thick with sauerkraut, mushrooms, and chunks of sausage. For a true sampling of the country's cuisine, Agata suggests the sampler plate, which comes with a taste of grilled sausage, stuffed cabbage, and four pierogi. To wash it all down, Michal recommends Okocim, a Polish beer dating back to 1845, brewed in a small village in the southeastern part of the country.
By opening the restaurant, Michal and Agata have been able to introduce a range of customers to their home cuisine. Michal says the nearby Family Dollar headquarters brings in quick business at lunchtime—people taking the lunch-special sandwiches to go—while families and couples from close-by neighborhoods make up most of the restaurant's following.
"We have customers come in and tell us that this is the first time they've had Polish food in 15, 20 years," Michal says. "It reminds them of another place and time."
Virginia Brown is a writer based in Charlotte. Email her at va.r.brown@gmail.com, or reach her on Twitter: @virginiarbrown.
Taste of Europe
10915 Monroe Rd., Matthews, 704-708-8495