Take Me to The River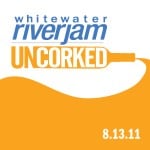 Summer won't last forever. But by August, it just feels like it will.
Don't let the sweltering summer of 2011 end without making it out to the Whitewater River Jam. Regional rock and bluegrass bands play in one of the most picturesque settings in all of Mecklenburg County. The next one, "Uncorked," is Aug 13 from 4-8 p.m.
Short on cash? Don't worry; the music's free. Wine tasting is $20. Details here.