Take Your Best Shot
Twenty-four hour photography event kicks off at EpiCentre at noon on April 23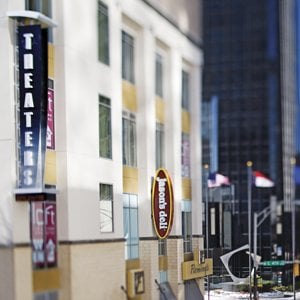 On Friday, April 23rd, The Light Factory's Paparazzi (a young-affiliates group of photography enthusiasts) will launch its first annual City Block Project. For twenty-four continuous hours, Charlotte shutterbugs will take to the streets of Uptown to capture the daily scenes of a single city block. This year's chosen block is The EpiCentre, the collection of retail and entertainment venues at College and Trade streets.
"We chose the EpiCentre block for the energy and excitement it brings to our city center," says Sean Busher, one of the project's masterminds and a local professional photographer. "There is so much to see and do there, which means lots of opportunities for photographers to make great images." Photographers (amateurs and professionals alike are welcome) are given just one rule: their subjects must be shot during the allotted 24 hours at The EpiCentre.
It costs $15 to submit one photo, and $5 for each submission after that. The event kicks off with a free forty-five minute photography class at EpiCentre Theaters. Participating photographers will vote for the top five winning entries, which will be showcased at The Red Sky Gallery from May 14-17 and at The Light Factory from May 22-July 11. The project was designed to bring together local artists, giving them a chance to shine while capturing Charlotte's history in the making. "Our city is growing and changing fast. This project is a way to document the evolution of uptown happening right before our eyes, and see it through the perspective of many different lenses," says Busher.
For more information, visit www.cityblockproject.com.