Taking Flight
With crayons and tissue paper, kids wade into the immigration debate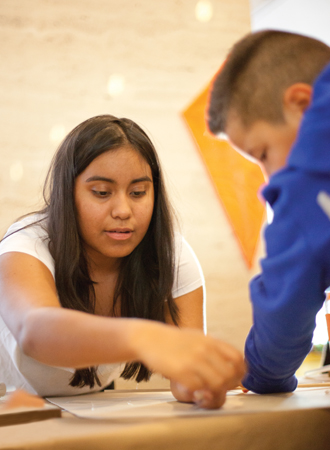 Emmanuel Hernandez sat silently in the Our Lady of Guadalupe Catholic Church activity room, ignoring the blank sheet of paper in front of him. His dad, an undocumented immigrant, was deported in January 2012. Last fall the seven-year-old attended a workshop designed to help him and other children express their feelings through art, but he didn't want to draw—or talk.
Mint Hill artist Rosalia Torres-Weiner sat beside him, encouraging, coaxing. Eventually he told her his dream: to get a Superman cape and fly to Mexico to see his dad. He drew a picture of his mother crying on the sofa. "I think it helped him to see other kids going through the same thing," his mom, Raquel Hernandez, explained later.
Hernandez's artwork is part of the Papalote Project. Papalotes—"kites" in Spanish—are traditional children's toys in Mexico. Torres-Weiner wanted to teach the children of deported immigrants in Charlotte to make their own. "The idea is to express things through art [that] you maybe cannot say," she says, "and to send it off, and let some of the pain go."
More than 360,000 people were deported from the United States between October 2011 and September 2012, according to U.S. Immigration and Customs Enforcement. Torres-Weiner saw how these forced separations affected the spouses, children, and other relatives of the deportees. "As a Mexican American, a mom, and an artist, I knew I needed to do something," she says.
So last fall, she went to Our Lady of Guadalupe in west Charlotte and offered the papalote workshop to members of the congregation. The following week, 13 children and their families showed up. As glitter and glue began to fly, a volunteer circulated around the room, typing the children's stories on a laptop. Participants were encouraged to bring a piece of clothing that belonged to their deported family member, which they would then tear into strips to create the tail of their kite.
The delicate kites, made from sticks and tissue paper, are on display in the exhibition El Papalote Mágico / The Magic Kite at Levine Museum of the New South through February 3. Meanwhile, Torres-Weiner plans to continue to grow the Papalote Project. Last year Center City Partners gave her funding to make 1,000 kites at First Night Charlotte in uptown on New Year's Eve, and she plans to compile the children's stories into a book to send to members of Congress. To donate or volunteer, contact Torres-Weiner through her website, papaloteproject.org.