Tales from the Red Carpet
During the DNC, I stalked celebrities. At times, I felt sleazy. But mostly, I had a blast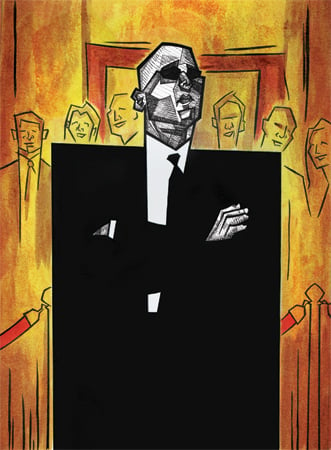 I built my reputation as an investigative television news reporter by breaking big stories. I track fugitives, chase CEOs, and stalk people who have wronged others. Occasionally I get to tell a human-interest story that helps someone in need. My mission during the Democratic National Convention? Track Kim Kardashian and supervise Clooney watch.
I covered the celeb beat for WCNC and loved every minute of it. As a pop-culture addict and news junkie, for me, having the DNC in Charlotte was like having the Super Bowl on Christmas morning. While my colleagues monitored protesters, followed the first family, or reported on traffic, I was nicknamed the "party girl" because I was forced to attend middle-of-the-night after-parties six days in a row. Tough gig, right? It was exhilarating and exhausting, and I have a stack of colorful credentials labeled "VIP" on my kitchen counter and way too many blurry cell phone pics as souvenirs.
For days, rumors swirled that Brangelina was hosting a private party at 5Church in uptown. Someone called The Charlotte Observer claiming they had video of George Clooney and Matthew McConaughey jogging shirtless. (The tip, as it turned out, was not legit.) But my big get came early in the week. Jon Stewart was shooting The Daily Show at ImaginOn, and his people made it clear that he would not be doing any interviews. So when a friend forwarded an email to me Monday about a backyard barbecue that was underway at a Myers Park home where Stewart was helping raise money for wounded veterans, I grabbed my iPhone and ran out the door. (I hoped an actual photographer could meet me, but everyone was tied up shooting "real" news, and the station wasn't sure they could break someone free in time to crash the barbecue.)
I arrived to a street lined with parked cars. It was clear there was a party. What to do? Ring the doorbell? Just walk in? I opened the front door, went in, and was grateful when several people I knew greeted me. It was a typical Labor Day barbecue. Kids were swimming in the pool. Small groups of people chatted on the lawn. And off to the side of the porch was Jon Stewart. Dressed in a T-shirt and shorts, a beer in hand, he was posing for pictures and chatting easily with the crowd that surrounded him. I wormed my way in, held up my iPhone, and asked for a quick interview. "You want me to do an interview on your cell phone?" he asked, only half joking. We talked about how the convention hosts had clearly avoided calling Bank of America stadium by its real name, about what we could expect to see of Charlotte on the show, and how everything is better on a biscuit. He was funny and charming and exceptionally gracious. When my photographer managed to break away half an hour later and showed up with an actual news camera, Stewart even agreed to a second, equally entertaining interview. It became one of the most watched segments on our website.
Later that night, the real party hopping began. I'd spent weeks calling publicists to get my name on "the list." I was assured there would be a "step and repeat" at Butter, the nightclub that was hosting the kick-off to the Impact Film Festival. A step and repeat is exactly what it sounds like—the celebs step in front of a backdrop covered in sponsor names, pose for a photo, and then repeat. We'd be allowed to jump in at some point and snag the two big names expected: Entourage star Adrian Grenier and Oscar winner Jeff Bridges.
At events like the DNC, getting into the clubs (and past the burly bouncers dressed Men in Black style) is only the first battle. Once inside, there is a separate VIP section within the VIP party. Looking like you belong, as always, is 99 percent of it. My photographer, Matt Hammond, and I sat waiting for the celebs, analyzing every face we saw, afraid we might miss someone. Mostly they were executives who looked slightly out of place inside the hip nightclub. Matt spotted the HBO cutie before I did. Most celebs will talk endlessly about their next project, but my task as a local news reporter was to get something relevant to Charlotte. I learned quickly that they all loved talking about our Southern hospitality and the food. "Have you had any good food while you're here?" I asked. "Are you cooking?" Grenier asked. "I'm cooking if you're coming," I countered. "I'm there," he promised. Yo, Adrian! The table is set.
Luckily, I had just tossed it back to the anchors in the studio when the lead singer screamed, "Guns and Fu@**** Roses!"
Jeff Bridges came around the bend a few minutes later but didn't want to chat about the food or anything else. So we got video of him and Grenier hanging out and went outside to prep for our live shot for the 11 p.m. news. A third party was getting underway on the outside patio and served as a lively backdrop. The Hollywood supergroup Camp Freddy (featuring Dave Navarro of Jane's Addiction and Red Hot Chili Peppers and other musicians who used to play in now-broken-up bands) started rocking just before I went on the air. Luckily, I had just tossed it back to the anchors in the studio when the lead singer screamed, "Guns and Fu@**** Roses!"
Tuesday brought new challenges. The convention formally kicked off, and protesters were in full effect—realizing that they had streets filled with spectators. Matt and I had just finished interviewing E! correspondent (and former Jay Leno intern) Ross Mathews at the NASCAR Hall of Fame. We hoped he could get to the bottom of the Brangelina rumors, but alas he was guessing right along with the rest of us. Leaving the event, we ran into a wall of cops. Dozens of officers piled out of a van with batons on their hips and frowns on their faces. More officers sat astride motorcycles, waiting to move in. Helicopters swirled overhead and the streets around us were suddenly impassable. It was a scene that was jarring the first time but would become normal by Thursday. I momentarily thought we'd be sucked into covering real news, but my station had a back-up plan that kept us out of it. We kept moving because we had places to be: Rosario Dawson was moderating a panel at Belk Theater and Perez Hilton was doing interviews at the EpiCentre.
Walking the city was often the best way to snag stars. The intersection at Fifth and College streets had a virtual red carpet stretching across it, with CNN Grill and MSNBC set up at the EpiCentre on one side of the street and the Ritz Carlton on the other. Tom Brokaw, Sheryl Lee Ralph, Naomi Judd, John Kerry, Geraldo Rivera, Anderson Cooper, Bill O'Reilly, Willie Geist, Ashley Judd, and more were all spotted near that intersection. That night we were on an actual red carpet interviewing the rapper Common before he performed at the Fillmore.
Wednesday meant an early start (by party-girl standards) and a meet and greet with some of the most famous faces of the Olympics. Three of the Fierce Five—Gabby Douglas, Jordyn Wieber, and Aly Raisman—were participating in an event promoting kids' health. They were sweet (if a bit rehearsed) and talked about meeting Eva Longoria in the airport and getting their nails done at a Charlotte salon in preparation for the next day's MTV Video Music Awards. That same day was also supposedly our best shot of confirming that pesky rumor that Brad Pitt was hosting a private party at 5Church. We staked out the corner (translation: stood on our already aching feet for two-and-a-half hours), hoping to get a glimpse of the most famous father of six in the world. He never showed. Instead, it was Hammertime. It took a lot of self-restraint to avoid asking M.C. Hammer why he wasn't wearing parachute pants. We also spotted Alfre Woodard and Paul Mitchell (the hair magnate) heading into dinner before we gave up on Brad—only to learn later that we had missed Jessica Alba, Elizabeth Banks, and Zach Braff by mere minutes, as they, too, headed into the uptown restaurant.
That night I had to recruit help from a team of entertainment reporters because there was a step and repeat, a red carpet, and a purple carpet (the newest trend) all scheduled for the same time. I went to the Creative Coalition party (a nonpartisan group of celebs who advocate for the arts) on the patio outside Butter, where we were told there would be "a lot of famous faces." By now we'd learned to look for black Cadillac Escalades, which invariably signaled celebrity guests, so we were surprised when a white shuttle (the kind you'd expect to see making a Holiday Inn run) pulled up and about a dozen recognizable names stepped out, including Beau Bridges, Bridesmaids' Rose Byrne, Patricia Arquette, Tim Daly, Seinfeld's Wayne Knight, and Tony Shalhoub. Here to promote a specific cause, they were all willing to chat.
It took a lot of self-restraint to avoid asking M.C. Hammer why he wasn't wearing parachute pants.
We finished by midnight and then ran to catch hip-hop artist Flo Rida performing at Amos' Southend. Dressed in red-white-and-blue-striped skinny jeans and covered in bling, the man put on quite a show and even jumped into the audience. It was a little weird to look around and see a crowd of khakis (supposedly Wolf Blitzer was among the throng) singing along to "Club Can't Handle Me," but that's the beauty of political conventions.
Nowhere did the two worlds collide more than they did Thursday at Time Warner Cable Arena. My station broadcast from a suite all week, and I'll never forget the view from inside. The stage was right in front of us, and we overlooked the crowd. It was breathtaking. We were waiting to interview Fran Drescher, when Michelle Obama walked by. I saw journalistic icons Diane Sawyer, Brian Williams, Sam Donaldson, and Wolf Blitzer. I watched James Taylor sing "Carolina in My Mind," Marc Anthony belt out the national anthem, and Mary J. Blige and the Foo Fighters bring the crowd to its feet. I remember looking over at one of my colleagues and seeing tears in his eyes, and I shared a smile with another. I was devastated that I had to leave just before the president spoke so that I could cover the last big party of the convention.
This last party was held (where else?) at the NC Music Factory. Jessica Alba was hosting and Pitbull was headlining. Press had to stay behind a metal barrier, and the celebs might (or might not) stop for interviews. We were hoping for a lot of big names, but standing behind the fence felt awful. We were in full-on paparazzi mode, and it felt sleazy. Gilmore Girls' Alexis Bledel tried to cover her face with her hair. Zach Braff rushed by saying, "I'm all talked out." Jessica Alba, Elizabeth Banks, and Eric McCormack all walked quickly past us saying almost nothing. We got a shot of Pitbull's bald head from behind as he ran inside the club from the loading dock.
But it didn't matter. More than 250,000 people visited wcnc.com during the week of the convention. The most popular thing on the site was a celeb slideshow—clearly I'm not alone in enjoying spotting famous faces.
Wrapping up Thursday night, I felt like we should go out and savor the last night of the convention. Thanks to Kim K's tweets from her private plane, we knew there was a pretty good chance she would be at a club on Independence Boulevard. A friend was at the Ritz, where she'd spotted Jon Hamm, Rob Reiner, and John Kerry. There was the buzzed-about Google party and a VIP party at Elder Gallery in South End. But all I could think about was sleep. So at around 1 a.m. my photographer and I called it a wrap. I headed home, excited to see the two stars in my life that had been neglected all week: my eight-pound mutts.
But my plan hit the skids when I had to slam on the brakes at a green light just a few hundred feet from the entrance to my neighborhood. The street was shut down, and I was once again trapped, waiting for a celeb drive-by. This time it was the biggest star of the week: Barack Obama. His motorcade was on the move.