Talk of the Crown (March 2015)
From Chiquita to charter schools to the NASCAR Hall of Fame, 2015 is off to a turbulent start. Here are some of the highlights.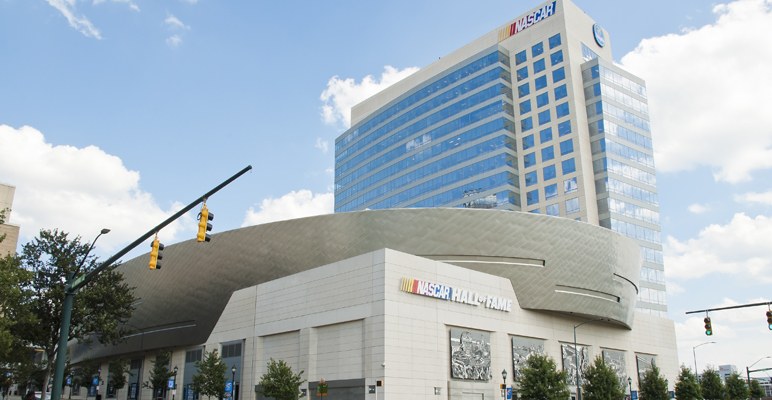 "I don't want to sound crass, but no one falls in love with a hooker."
Mecklenburg County Commissioner Bill James, discussing his view that Charlotte and Mecklenburg have been "hooking themselves out" to companies such as Chiquita. In January, the fruit company announced that it will close its Charlotte headquarters, where more than 300 people are employed. (WFAE, Jan. 14)
"To call the NASCAR Hall of Fame a financial disaster would be an understatement."
Writer Sam Sturgis commenting on the uptown museum, owned by the city of Charlotte, that has lost more than $1 million a year since it opened in 2010. (CityLab.com, Jan. 12)
"What if we told you there will be a stilt walker at the event dressed in a Marie Antoinette costume made of condoms?"
Facebook post by Condom Couture Charlotte, a "unique runway fashion show" in which local designers planned to use condoms to create wearable art. The event, held on February 21, raised funds for Planned Parenthood South Atlantic. (Jan. 9)
"It's just been a hot mess. It's been very bad. It's embarrassing to see a situation get here this quickly."
State Board of Education member Becky Taylor, commenting on Entrepreneur High School, the Charlotte charter school that shut down in January after facing financial difficulties. It was the third Charlotte-area charter school to close in the past year. (The Charlotte Observer, Jan. 16)
---
WORDS OF THE MONTH
Brogurt
Coined by the blog Grub Street, this term describes new brands of yogurt marketed to men. Cam Newton is the spokesperson for one such brand, Dannon Oikos Triple Zero.
Designated Survivor
The role former Charlotte mayor Anthony Foxx played during President Obama's State of the Union speech in January. As U.S. Secretary of Transportation, Foxx was the Cabinet member chosen to stay home and be prepared to run the government if everyone else in line for the presidency was killed during the speech.
Google Fiber
In late January, Google officials announced the company would bring its high-speed broadband Internet network to Charlotte. The super-fast service could cost about $70 a month.
I-485
There's an empty, extra lane on the congested beltway in south Charlotte, but cars can't use it for about five more years, when the state plans to convert it into a toll lane. City leaders and commuters are hoping for a better solution.
---
BY THE NUMBERS
3: Panthers linebacker Luke Kuechly's jersey was the third-best-selling NFL jersey at Dick's Sporting Goods stores nationwide during the regular football season, beating out Cam Newton's jersey, which was in 10th place.