Talking Pickles + Preserves with Andrea Weigl
Author visits Park Road Books this Sunday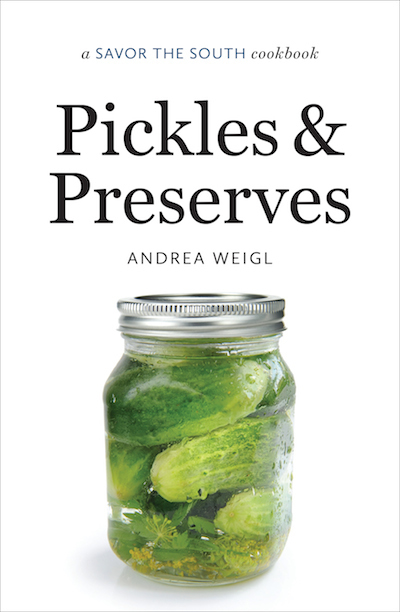 This weekend, Andrea Weigl will be at Park Road Books to discuss her new book Pickles & Preserves. The book is the latest in the Savor the South cookbook series, a collection published by UNC Press that honors Southern foodways and culinary traditions.
Weigl, the food writer for the Raleigh News & Observer, chronicles the history of pickling and canning and its recent resurgence. Canning became a necessity in the South after the Civil War and reached its height in the 1930s and '40s. Today, Weigl says, canning is seeing a revival. Increased interest in eating locally sourced produce, shopping at farmers markets, and reducing the amount of preservatives we consume are all likely motives for canning.
One of the interesting things about the new canners is their age. Weigl cites a study by the maker of Ball canning supplies that found "the new generation of home canners consists of not rural grandmothers but urban women under the age of fifty-five." Canning is cool. It's a star on blogs and social media.
And the practice makes sense. In the book, Weigl explains how she pickles and preserves throughout every season. Her ready supply provides a go-to snack for an unexpected guest, an inexpensive yet thoughtful hostess gift, and a starting point for recipe inspiration. The book contains about 50 recipes, from classics, such as strawberry preserves, to the more adventurous, such as habanero gold pepper jelly.
As we start to plant our gardens and venture to the farmers markets, Weigl's book is a good guide and source of inspiration. Pick up a copy and meet Weigl this Sunday at Park Road Books at 2 p.m.