Target Appears to Sell Copy of Enamel Pin Made by Weird Empire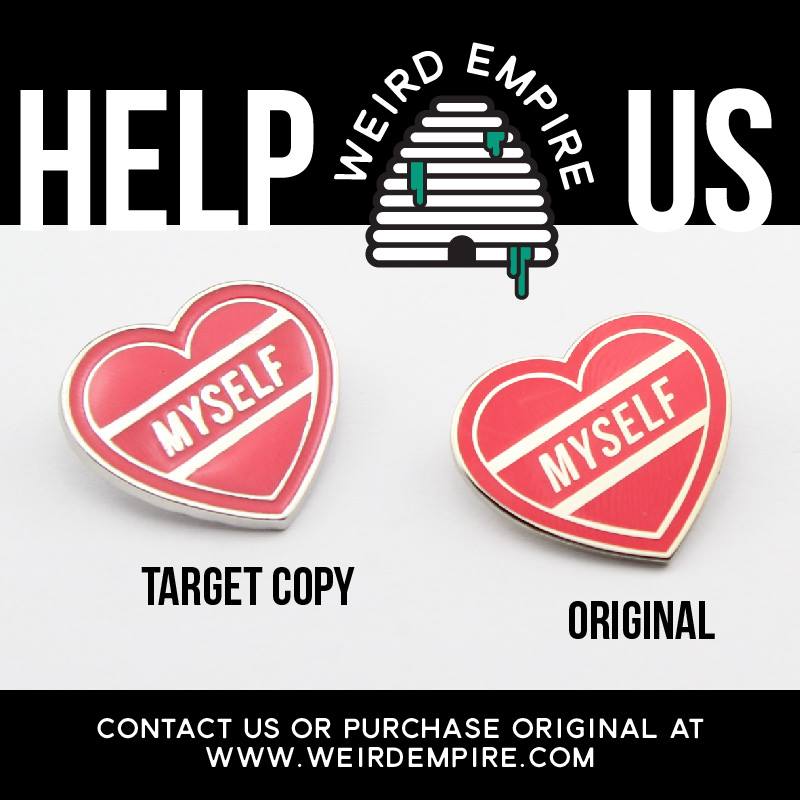 UPDATE: Target has provided a statement to Charlotte magazine about this situation: "Target has a deep appreciation for great design and it has always been our policy to respect the intellectual property rights of others. We are aware of this issue and are looking into this matter."
FROM FRANCESCA'S to Zara, big retailers across the world have been accused of ripping off designs for enamel pins created by small businesses and independent designers. And now, the so-called "Pindemic" has gone local: Charlotte's Weird Empire is now asking Target to stop selling a new product that appears to be an exact copy of its "Love Myself" pin.
For the last few years, an international market for the accessories has surfaced. Weird Empire currently has more than 11,000 Instagram followers from across the globe. Rebecca Henderson, founder and recent #DiscussCLT Podcast guest, says the "Love Myself" pin was one of the debut designs when Weird Empire launched in July 2015. Henderson works with local artists like Dustin Harbin and Taylor Williams for some of Weird Empire's products.
Henderson says a cease and desist letter is being sent to Target today. Her original postings about the situation have garnered hundreds of shares on social media. Henderson provided an exclusive statement about the situation to Charlotte magazine:
"I want people to understand that it is possible this incident is caused by another entity selling my design to Target's private label, and it should not be assumed this is an intentional act by them. However, especially as the theft of independent design runs rampant, I do believe in being as vocal and as assertive of my rights as possible until such time that a positive result is reached. And Target, at the time that I am writing this, is still widely circulating a product identical to one of my own under Target Brands, Inc. And that is a huge problem and a threat to my livelihood."
A call to Target Corporation's media department was not immediately returned.