Task Force or Not, Biggest Risk Found in Inaction
A look at our latest #discussCLT event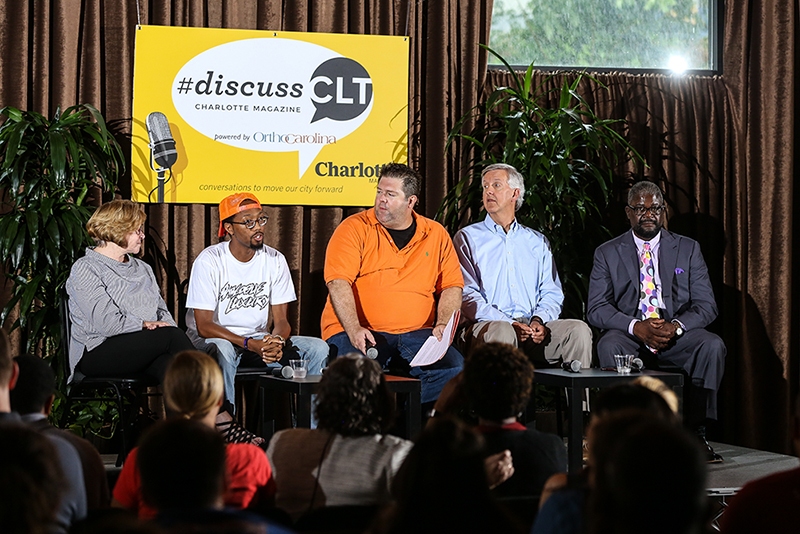 Mary Newsom of UNC Charlotte's Urban Institute had an interesting theory to share before our latest #discussCLT event June 20. We were having a pre-event chat near the bar at Catawba Brewing Co. The subject of the day: Charlotte loves to assemble community task forces of business, government, and nonprofit leaders—and regular citizens—whenever it perceives a civic problem that needs solving. We wanted to examine the question: Do they work?
I had another question. Why are task forces such a "Charlotte thing"? Surely other cities have their blue-ribbon commissions and gatherings of serious-minded community leaders. But it sure seems like there's something in Charlotte's water supply that compels its leaders, when confronted with a problem, to blurt, "Let us convene a task force!" Why is that?
Here Mary's theory, which was passed on to her. It's the Presbyterians' fault. (I knew it!) Presbyterians apparently dote on the idea of forming committees of church elders to oversee various aspects of their congregations' spiritual and practical lives, and the Presbyterians that helped make Charlotte a city of churches passed that practice to the community at large. It's an interesting, and unprovable, theory. But it'll do as an on-ramp to the discussion we passed around. Do task forces serve to stroke the egos of the people selected to serve on them? Or do they actually do any good? Or does it depend, unsettlingly, on what the rest of us are willing to do?
Our panel was less interested in the why of task forces in Charlotte than the effects, or the lack of them. I moderated, and as I told the crowd, the idea for the topic came from a tug-of-war on the Observer's op-ed page a few months back that addressed the notion of "task force fatigue"—a weariness with a seemingly endless appointment of one task force after another that, as panelist Willie Ratchford noted, "produce(s) really nice, glossy reports and then they sit on the shelf and end up collecting dust." Social entrepreneurs can achieve real results more quickly with startup projects, the columnists wrote.
Ratchford, the city's Community Relations Committee director, has worked on social and civil rights issues in Charlotte for 38 years, and he's seen that pattern over the decades. But the problem, he offered, lies not so much with the task forces or their members but the lack of community will to take the reins. Task forces are meant to guide the larger community toward solutions, not enact them. "We are a reactionary community," Ratchford said. "We like to sit back and wait for shit to happen."
That may be changing, though, with the notorious 2014 Harvard study that ranked Charlotte last among 50 large U.S. cities in social mobility leading to the formation of the Leading On Opportunity task force, of which another panelist, David Chadwick, was a member. Chadwick, the senior pastor at Forest Hill Church, had taken part in another Charlotte task force in the early 2000s that sought to close the gap between the city's high rate of philanthropic giving and low rate of social capital.
"That task force came out with that recommendation that we do XYZ, and two years later it was sitting on someone's shelf gathering dust," Chadwick said. "I must admit I was frustrated with the time I spent trying to give some insight into what could be done to increase social capital." So when he was invited to join the Leading On Opportunity task force, "My first response was a succinct 'no'. I had no desire to go through that again." But group co-chair Dee O'Dell told him he thought there was enough political will to get something substantive done. Chadwick changed his mind and joined the new task force.
To his pleasant surprise, the group's conclusions, unveiled to the public last year, have led to some movement on civic fundamentals in Charlotte—most notably approval from the City Council to issue $50 million in housing bonds instead of the customary $15 million to help ease the city's affordable housing crisis. Leading On Opportunity has also hired a full-time executive director, Stephanie Cooper-Lewter, to help enact some of the task force's recommendations on housing, education, jobs, transportation, and other factors. Chadwick said he thought a full-time director would be essential to getting anything done. "We're seeing some steps forward," he said, "that are actually making people like me feel like, 'OK, I'm glad I spent two years doing that.'"
Yeah, but … two years? Couldn't a nimble startup apply itself to the problem and make progress more quickly? Sure, but probably on a scale far too small to make any comprehensive difference. Panelist Dave Butler, a 26-year-old creative consultant and COO for a creative development company, is a social entrepreneur's social entrepreneur but understands the challenge startups encounter when they try to accomplish things on a large scale. Butler talked about his own recent experience in the Innovation Institute at the McColl Center, where participants wrestled with that specific problem. What he'd like to see, he said, is a "design thinking" model applied to Charlotte; he was referring to a five-step process first used in the design industry to work from proper understanding and definition of a problem to field-testing and perfecting solutions. "Giving people an opportunity not only to talk about solutions," he said, "but to work on them."
That would seem to solve the scale-versus-speed problem. The trick would lie in actually executing such a plan. Even the best model for social change founders when the people working within it don't see their work through. "We're not creative enough in this community. Sometimes you've just got to throw shit on the wall and see what sticks," said Cyndee Patterson of the Lee Institute, a nonprofit that specializes in guiding stakeholders in community task forces and similar groups. "Fear of failure in this town is so extreme."
Maybe it is. But there's no dodging another fact: The work of the Leading On Opportunity task force, one of the few examples of its kind that's producing tangible progress, wouldn't have been so urgent if the post-Keith Scott demonstrations in September 2016 hadn't shattered windows, vehicles, and Charlotte's sense of complacency. Put another way: It wasn't until the fear of stasis outweighed the fear of failure that the institutions that have held power in this city for so long were willing to risk failure. That's a lesson that surpasses any examination of community task forces and whether they work. Cities address their problems, by whatever means are necessary to get them solved, or face the consequences.