Taste of the New South, Bats and Buds Opening Knight, Moo and Brew Festival and More, April 14 to April 17
From Opening "Knight" with the Charlotte Knights and a Beer Olympics, we salute you, spring. You've finally arrived.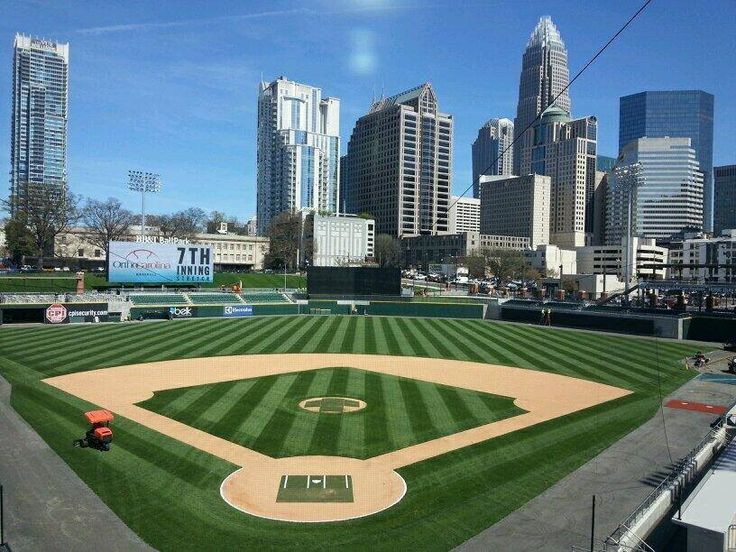 The Knights are back in town, the Moo and Brew festival is back as is Bayne Brewing's Beer Olympics. Bless you, spring. Bless you. See y'all out there!
Thursday, April 14
Taste of the New South
The Levine Museum of the New South's annual fundraiser takes on a Latin flavor tonight at Savor Sabor, as the museum highlights is current NUEVOlution exhibition. The event usually features more than 500 people, so buy your tickets while you still can. The event is at 6 p.m. at 200 E. Seventh St. Tickets cost $100 for museum members or $125 for non-members. Buy them here.
Bats and Buds Opening Knight
The Charlotte Knights take to the field in its first home game of the season tonight. A $10 ticket gets you a ticket to the game, a complimentary beer before the game and two afterward. Registration is from 5:30 p.m. until 7 p.m. at Draught, 601 S. Cedar St., followed by the game. The after party is back at Draught, starting at 10 p.m. Buy your ticket here, slugger.
Friday, April 15
Tax Relief Party
Taxes aren't technically due this year until April 18, but help drown your sorrows or spend your refund at Whisky River tonight at this celebration. The party features $3 beers and $5 shots. The event at 210 E. Trade St. is free before 11 p.m. if you RSVP.
Electric Luau
Get into the summer spirit tonight as BAR Charlotte presents an electric luau. They'll have LED leis, so it's on you to bring the grass skirts. The free party starts at 9 p.m. at 300 N. College St.
'80s Night
Headbands, "Thriller" dance moves and big hair will all be in full force tonight as Howl at the Moon turns back time. There will be prizes and '80s music all evening in addition to $3 Miller Lites, $5 Long Island Ice Teas and $20 86-ounce "Adios Mofo" buckets. You'll get free admission to the party if you rock a totally rad '80s outfit. The party is at 210 E. Trade St.
Saturday, April 16
Moo and Brew Craft Beer and Burger Festival
The VIP tickets for this festival are sold out already, which should tell you something about this party. The general admission tickets, which cost $45, include unlimited samplings from more than 30 breweries from 2 p.m. until 6 p.m. and access to the jam session from multiple live entertainment acts. The second-annual Moo and Brew fest is at 1000 NC Music Factory Blvd. Buy tickets here.
Dancing with the Stars of Charlotte
Throw on your fanciest clothes and get ready to watch the stars of Charlotte cut up a few rugs to benefit The Pink House. Audience members are able to vote for their favorite pairing of local celebrity and professional dancer by donating online. Doors open at 7 p.m., and the show begins at 8 p.m. at The Booth Playhouse, 130 N. Tryon St. Buy tickets here.
Ales For Autism
Grab a few local beers and support Autism Charlotte at this event. Ticket prices vary from $20 to $40 depending on if you want to take home a four-pack of NoDa Brewing beers. Either way, you get a free beer, glass and support a local charity. The event from 5 p.m. until 9 p.m. at NoDa Brewing, 2921 N. Tryon St., also includes food trucks, live music and a silent auction. Buy your ticket here.
Sweet Escapes
With a tagline of, "Eat Chocolate. Help People." we're having difficulty coming up with a reason why you shouldn't go to this party. Besides 500 pounds of chocolate (Repeat: 500 pounds of chocolate), the event features heavy appetizers, beer and wine, live music and a silent auction. The sweet treat of an event is from 7:30 p.m. until 10 p.m. at the Mint Museum, 2730 Randolph Road. Tickets cost $90. Buy them here.
Craft Beer Olympics
Glory is on the line here at Bayne Brewing's second-annual Craft Beer Olympics. Build a team of two and compete against challengers in games like giant Jenga, corn hole and more. There's free pizza for competitors and prizes for first, second and third place. Tickets for a team of two cost $30. The games begin at 3 p.m. at 19507 W. Catawba Ave., in Cornelius. Good luck, Olympians. Reserve your spot here.
Studio Party 16
This is more than just an art gallery party. This party at the McColl Center for Art and Innovation, 721 N. Tryon St., brings every floor to life with pop-up performances, music and dancing, gourmet hors d'oeuvres and complimentary cocktails. Another word of advice from the McColl: "This year, we clash patterns and prints with art and artists, so break out your polka dots, pinstripes, houndstooth, argyle and more, so get creative with your attire!" The party is from 7 p.m. until 10 p.m., and general admission tickets cost $150. Buy your tickets here.
Sunday, April 17
Rural Hill Scottish Festival and Norman Highland Games
The 23rd-annual event spans the entire weekend, and today has a whole batch of Scottish for you, including Best Clan Tent award, the Parade of Tartans, Kilted Races and more. Sounds like smashing good fun! Ticket prices and hours vary, so consult the schedule before going. Buy tickets here. The event is at 4431 Neck Road in Huntersville.
Verify dates, times, prices, and other info at the web addresses listed for each event.
Be sure to bookmark www.charlottemagazine.com/Blogs/Dusk-Till-Dawn to stay plugged into Charlotte's nightlife and social scene. Click here to sign up to receive the weekly Dusk Till Dawn e-newsletter.
Want your event featured in Dusk Till Dawn? Follow me on Twitter @Jared_misner and let me know about your event, or send me an email at dusktilldawnblog@gmail.com.
Send Jared an email at DuskTillDawnblog@gmail.com, or send him a tweet @Jared_Misner.

Also by Jared Misner:

→This Weekend's Social Events
→Bowling For Books, First Friday Fort Mill, Electric Luau Party, Soulmatic Carolina Music Fest and More, Aug. 6 to Aug. 9
→The Moon Walk, Candy Fest, Silly String Party, Booze Cruise and More, July 30 to Aug. 2
→Christmas in July, More Christmas in July, National Dance Day, National Tequila Day and More, July 23 to July 26