Taste of Tuscany
Uptown's newest restaurant, Aria, offers rich Italian fare in a chic, modern space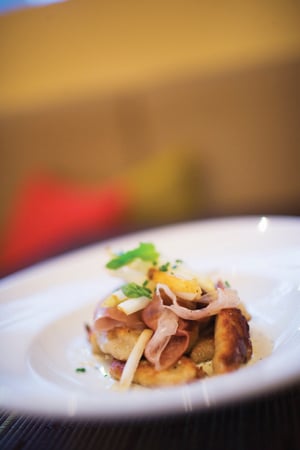 An aria is a piece of music, usually written to be included in an opera, but perfectly able to stand on its own. If you consider uptown's Founders Hall as an opera composed of restaurants, boutiques, shops, and offices, then the name of the hall's newest addition makes perfect sense. With an extensive Italian menu and an elegant, modern interior (designed by LITTLE design firm), restaurateur Pierre Bader's new Tuscan grill perfectly complements its Founders Hall counterparts but is already enough of a standout to live up to its name.
Shortly after its mid-January opening, Aria is showing no signs of growing pains. The staff is attentive and energetic, supporting diners' decisions with concise descriptions of various plates. Every line on the menu sings thoughtful lyrics, such as the tender braised beef short rib ($9), an ideal portion for a starter that breaks onto a bed of creamy polenta and tarragon gravy. Caramelized gnocchi ($11) gleam a crisp brown and are topped with a modest hill of salty prosciutto slices and tiny, sweet slivers of pear.
The shape of the pizzas reflects Aria's décor, an elegant theme of squares and angles. The space features an upstairs lounge called La Scala that has modern white chairs and polished dark wood tables. Downstairs, diners can look in on executive chef William Schutz's staff preparing dishes through long glass windows. And parties of six have the option to reserve, at no cost, the city's first private chef's table, reclaimed from an old farmhouse and set in a small space off the dining room where they can enjoy dishes with commentary from the kitchen.
Chris Edwards
But back to the pizza. Thin, brick-oven-crisp crust is topped with goat cheese, caramelized onions, and reduced wild mushrooms, and then accented with truffle oil for the wild mushroom pizza ($12). The menu includes five pizza options and ten pasta dishes. On the spaghetti alla pescatore ($19) the mild tomato sauce is complemented beautifully with swollen mussels, shrimp, and clams.
At Aria you can expect a diverse clientele of foodie couples, groups of friends, and loosened-tie professionals looking for a drink from the well-stocked bar. Its central location and stylish atmosphere make it perfect for a stop after a show at the Blumenthal. Share an order of the tiramisu ($6) or enjoy a scoop of gelato ($6) for a sweet finale.
Aria
100 N. Tryon St.
704-376-8880
$$$, R, L, D, FSB.
Closed Sunday.
ariacharlotte.com