Tasteful Not Tacky: How to Decorate Seasonally
Interior designer Cheryl Luckett dishes on how to achieve refined seasonal style all the way into the new year.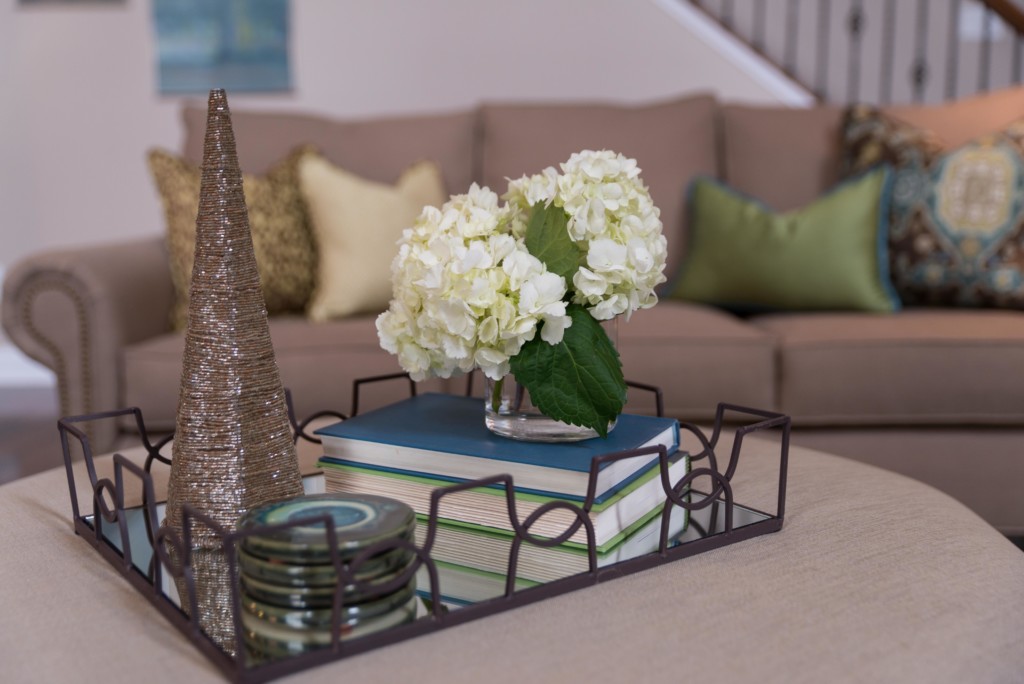 Seasonal decor is often tarnished by tackiness. You know it when you see it: An overly colorful display of themed pieces sits in an entryway, each item clearly purchased during different outings (maybe decades). The styles are a smorgasbord, each one clashing with the next. There's no doubt in your mind there's a holiday on the horizon, not that you needed a reminder.
If you're serious about your interior, chances are you've probably wondered how to tackle holiday and seasonal decorating. Is it possible to show seasonal spirit without sacrificing style? The good news is yes, it's possible. And to help you achieve your festive decor dreams, we asked Cheryl Luckett of local Dwell by Cheryl Interiors to give us her best tips for designing a refined but appropriate interior look for fall.
Charlotte at Home: To you, when does seasonal or holiday decor cross the line from tasteful to tacky? How can you tell you're overdoing it?
Cheryl Luckett: With so many options available, it can be easy to go a bit overboard. If the holiday decor is limiting the functionality of your space, there's a good chance you've gone too far. Make a habit of exchanging your holiday items for existing decor instead of simply adding it. This will help ensure that you don't create a look that's too cluttered for the space. The holidays are a hectic time of year already, so you don't want to add visual clutter to mix.
CAH: And how do you make sure the decor doesn't feel like clutter?
CL: In order to keep holiday decor a bit more refined, I look for ways to ensure that the decor in line with the home's current non-seasonal decor. Long gone are the days when the options were limited to traditional decor and schemes. Today's holiday decorations include on-trend options in a variety of colors and styles, making decorating for the holidays as limitless as decorating your home in general.
CAH: What's your advice for people who don't decorate seasonally because they don't want it to look tacky?
CL: It often doesn't require much to infuse touches of the season around your home. A well-placed pumpkin, a bowl of acorns or pinecones, or a large red-velvet bow are all simple and chic options for a more sophisticated look. I also often opt for more seasonal verse "holiday" decor. This prolongs the time the items can be displayed and keeps me from having to make changes every few weeks. Think autumn and winter versus Halloween, Thanksgiving, and Christmas.
CAH: Great call. Do you have any specific seasonal decorating ideas you recommend?
CL: Taking cues from nature is always a good idea. I love to add items such as branches, gourds, and winter greenery for a classic look. Also, don't overlook the opportunity to adorn your furnishings. A wreath centered on a china cabinet or armoire door, festive tassels on lamps, and even bells on a shower curtain are great ways to add simple touches throughout your home. Changing out decorative pillows and throws for more seasonal colors is another easy update.
CAH: What are your favorite local places to snag sophisticated fall and winter decor?
CL: For a vintage or more traditional look, antique, vintage, and second-hand shops are great resources. Often classic seasonal decor items can be found at great prices—The Depot at Gibson Mill and local Habitat Restores are among my favorites. Many home decor and furniture retailers offer seasonal décor as well. Ballard Designs is one of my go-to sources for holiday decor items I know will be utilized year after year.
CAH: Any last words for the weary decorator as the holidays approach?
CL: The holidays are a time of celebration, and decorating for the season can help to set the stage for enjoying this time of year. Much like your home's decor, holiday items should reflect your personal style and point of view. In the end, your home is your haven, so if you choose what you love, it will always be in style.