Team Jessica!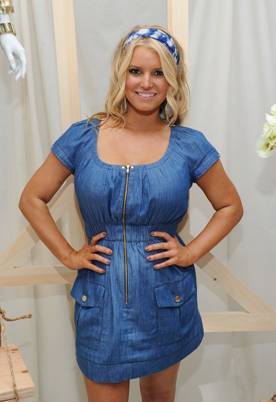 I have a sincere and unending affection for Jessica Simpson. The Lohans and Gagas and Xtinas and Britneys of our time can rise and fall, go in and out of vogue and rehab, and I don't really blink and eye. But I truly want Jessica Simpson to succeed in life. (And Mandy Moore, who is kicking butt at life in general already, if you ask me). In fact, the only time I may have ever been a bit dubious about Jessica's overall existence was during her "Chicken of the Sea" days on "Newlyweds" with Nick Lachey, but even then she was somewhat endearing. And compared to the Snooki's and Housewives and Gosselins of today, Nick and Jessica's televised life seems downright adorable and down-to-earth. Post Nick, there is no getting around the fact that Jess has had some missteps, but never in my life have I cheered more for a Hollywood starlet when she shows up in U.S. Weekly looking HOT, or prayed more that she wouldn't look like a hot mess.
The one area where Jess has knocked it out of the park in the past few years has been her shoe line. That girl knows the way to my heart is through a pair of killer platform heels and knee-high boots, and she has attached her name to some downright trendy and fabulous footwear. Now she's stepping it up even more and launching a denim line. Even better, she's kicking off her nationwide denim tour with an appearance right here at our very own Belk at SouthPark. She'll be at the store this Saturday from 1-4 p.m., meeting, greeting, and flashing that gorgeous smile.
I don't know about you, but there is something about buying jeans from a girl that actually has hips and curves and might have had a few battles with jeans in the dressing room in her own life that makes me trust her. I have a feeling that Jessica Simpson denim is going to be a big hit with girls just like Jessica— real women with good days, bad days, gorgeous days, leave-me-alone days, break ups, make ups, misguided make-out sessions, and a hair dresser they would trust with their life and their roots.
You go, Jess. Charlotte Shop Talk is behind you all the way.