Ted's Montana Grill Wants to Save the Bison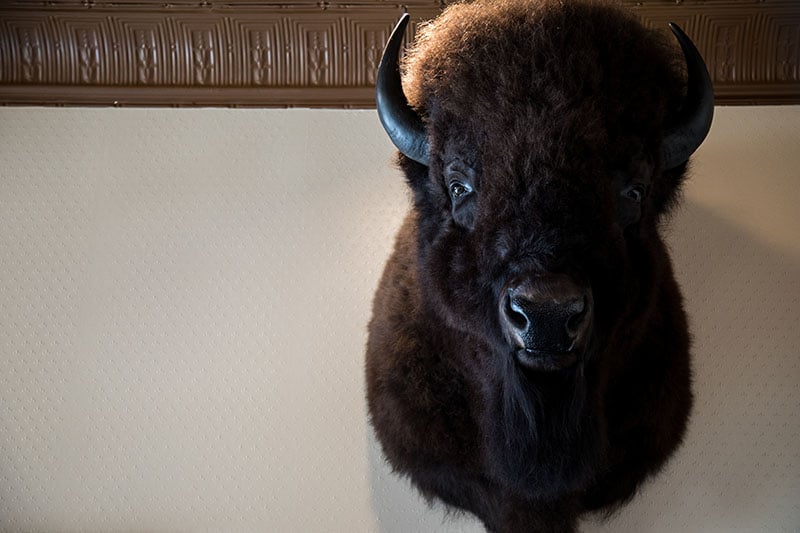 "TED'S WAS REALLY a marketing ploy," George McKerrow Jr., who owns Ted's Montana Grill with media mogul Ted Turner, tells me over lunch. It's a phrase that would usually make a food journalist want to lay down her fork, but not here. Even noble causes need good marketing. And behind this restaurant is the respectable mission of saving America's bison.
The 47th location of Ted's opened in south Charlotte's Waverly development this spring. McKerrow had been looking for a space to open Ted's in Charlotte for years before finding the right fit in Waverly, which is underserved in terms of eating options.
Across the way from the restaurant is a new Whole Foods, where you can buy bison meat, both ground and by the filet.
An estimated 20 million to 30 million bison used to roam North America, before European settlers arrived and decimated the herds. Ted Turner wanted to bring them back on his two million acres of land in states including Nebraska, Montana, South Dakota, New Mexico, and Kansas. Since 2012, he's slowly done that, increasing his herd of American bison from 30,000 to 60,000 animals. The number of bison worldwide doubled, too, from 300,000 to 600,000. It's become a marketable commodity, with ranchers commanding five times as much for bison today as they could five years ago. All this from a marketing ploy, McKerrow explains: Simply by putting it on a menu, bison became a desirable food.
At Ted's, you'll find bison used in dishes from nachos to mains. The filet looks similar to beef, but has a slight gaminess and is more lean. When cooked right, though, it's still tender. The lower fat content lends itself well to slow-cooked dishes, such as the bison pot roast, and the burgers—which can be ordered as beef or bison patties—are covered with a dome during cooking to maintain moisture. The menu also contains seafood and chicken dishes, as well as a lengthy list of sides and starters.
The only things you'll find frozen in the kitchen are ice cream and okra, because the latter tastes better in soups than fresh okra, McKerrow says. The menu is as hearty or as healthy as you want to order, but everything is made with fresh ingredients in small batches. If the roasted chickens aren't sold in 30 minutes, for example, they're no longer sold as roasted chickens; they become barbecue chicken sandwiches or pulled chicken salads.
"I'm a trout fisherman," McKerrow says. "No trout tastes better than when you take it out of the stream and put it in the pan on the shore."
The restaurants work with Greener Fields Together, a California nonprofit organization dedicated to sustainable farming, to find suppliers for their produce. There are conscious green decisions throughout the restaurant, from paper straws (Americans use more than 500 million plastic straws a day) to low-water-pressure bathroom fixtures. The flatware and to-go containers are made of cornstarch, so they're biodegradable.
"When Ted was born in 1938, there was approximately 2 billion people alive in the world," McKerrow says. "We sit here today, there's over 7 billion. That's one lifetime. So we're overpopulating the world, and that's the reality, but it's not going to change. So we've got to learn to live in the world without destroying it."
McKerrow founded LongHorn Steakhouse, now seen as an antithesis of the local food movement. With so many frozen foods coming in to ensure consistency across the brand, diners spending money at chain restaurants can often buy the same quality food in the frozen foods aisle of the grocery store. Ted's looks to show them that restaurant chains can succeed by serving real, fresh food.
Turner and McKerrow believe their biggest signs of success, however, are in the growing bison herds and in grocery stores, such as that Whole Foods selling bison across the street in Waverly. Unsure shoppers who are brave enough to buy bison at the store and try it for the first time at home often cook the meat like a steak, resulting in a chewy, gamy mess of a meal. At Ted's, customers learn about the bison's history, and its attributes—how it's low in fat, but high in omega-3s. By making bison approachable and delicious, America's once-prevalent protein is slowly making its way into American homes once again.
"We brought bison back, which is the most sustainable thing we've done," McKerrow says.
Kristen Wile is senior editor of this magazine.