Ten Cheap Ways to Plan a Last-Minute Wedding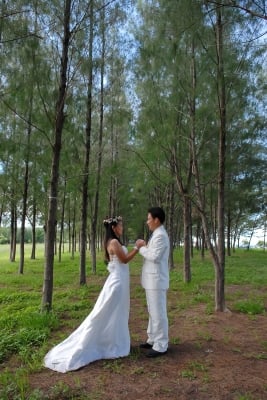 Wedding expert Cara Davis has sent us the lastest "Cheap Ways To" list to make your life easier. This is for all you twenty-something brides who have just graduated, gotten the ring and want to get married this summer. Or for you thirty-something women who want to do it a little smaller, plus not be engaged for twice as long as you were dating. Here are some tips for planning a last-minute wedding on a last-minute budget:
1. Venue – Finding a great place on short notice will be difficult, but it can be done. Look into some non-traditional places to hold your ceremony, as they might be cheaper. Try a park, city hall, or even a generous friend's spacious backyard.
2. Dress – Since you will only wear this dress once and you are in a hurry, settle for off-the-rack choices that fit you without needing alterations (which are timely and expensive). David's Bridal would be the best place to do this… you can even search eBay for a quality used gown.
3. Photography – If you have a hard time finding a photographer who isn't completely booked, consider asking friends or family members who are good with a camera to take over. Cara recommends looking up local college students who would work for cheap and might even use more modern treatments on your wedding photos.
4. Food – Get married in between meal times. This takes the stress off having to plan a large meal for tons of people. Feed them some snacks, water and lemonade/punch, and a piece of cake and they will be happy (almost as happy as your credit card).
5. Registry – Since you are in a rush, don't take the time to go walk around a huge store for hours trying to register for very specific things. Instead, go to an online gift card registry, like CardAvenue.com, and pick out gift cards to your favorite stores. That way, your guests can buy you the gift cards and you can worry about what to buy later.
6. Officiant – If you don't know a pastor or minister, or can't find one with an affordable fee, your best bet might be to get married at city hall and have a ceremony afterwards. Even though you would already be married, you could still make vows in front of your family and friends and choose a loved one to "officiate."
7. Flowers – Consider stems from the grocery store or local florist (which tend to be cheaper than a formal bouquet) and arrange the flowers and centerpieces yourself. Walmart sells mason jars at a discount, which would be a very suitable vase for a summer wedding floral arrangement.
8. Invitations – There's no time to worry about invites and RSVPs, so use Evite.com, Facebook, or even a wedding website that you create to let your loved ones know about your last-minute wedding. Have family members who are clueless when it comes to social media and technology? Pick up the old-fashioned cell phone.
9. Guest List – One way to keep all costs at a minimum is to limit your guest list. If you keep it very small, you can always send out formal wedding announcements to everyone later and even include a picture from the big day.
10. Travel – No, I'm not talking about your family or friends flying in for the wedding. I'm talking about you and your hubby flying out for the honeymoon. How about going somewhere local for a week, like a nice cabin up in the beautiful Blue Ridge Mountains of western NC, and saving up for your dream vacation later? Sounds like a plan to me!