Tense Sit-In Protest at Pizza Peel Ends Without Arrests
Fired bartender at center of demonstration hints at more to come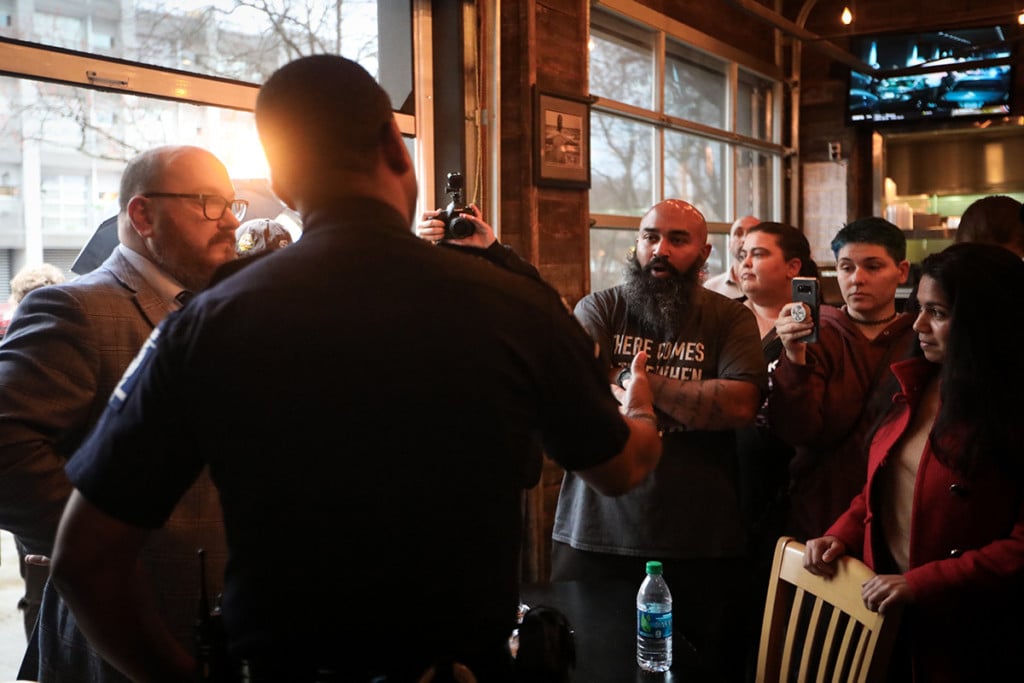 As a group of 20 protesters walked down Thomas Street toward Pizza Peel's Plaza Midwood location tonight around 6:30 p.m., a friend asked Andrew Woods how he was holding up. "I'm hanging in there," Woods replied, "scared shitless." Woods, a political activist and former bartender at the restaurant, was recently fired when his social media bouts with a right-wing political group led to real-life death threats.
A light rain fell as the group entered the restaurant, chanting "Black Lives Matter" and filing in around diners. Woods planned a sit-in at the restaurant to protest the presence of police officers at the time of his firing on Thursday and to make a list of demands to owner Will Bigham and Rob Larsen, president of Restaurant HR Solutions LLC, according to his Linkedin profile.
Woods' demands included that the restaurant display a "Black Lives Matter" sign on the door, donate to a charity of the protesters' choice, receive managerial training by "black and trans advocates," and donate food monthly to the homeless. Larsen held his hand over his mouth as he looked at the individuals standing just a few feet away, one table between them, and Bigham asked them to leave.
"If you will not come to the mountain, we will bring the mountain to you," Woods said during the sit-in, criticizing the restaurant's inactivity after initial calls for boycotts.
This month, a now-removed post on Woods' personal Facebook page which called for "brutal harm" against white Trump supporters garnered the attention of a conservative group called "Deplorable Pride." The group targeted the Pizza Peel, Woods' employer at the time, with negative online reviews. The online feud continued for a week with threats coming from both Woods and Deplorable Pride until Woods' firing on March 21.
Around 9 a.m. on Monday, nearly nine hours before protesters entered the Pizza Peel, an officer-involved shooting resulted in the death of Danquirs Napoleon Franklin in a Burger King parking lot on Beatties Ford Road. The fast food franchise location is owned by the Stomp, Chomp and Roll restaurant group, which also owns the Pizza Peel. That coincidental connection between the two restaurants would push tensions further on social media throughout the day, with activism groups on Twitter tethering one incident to the other.
At Pizza Peel, the stand-off between the protesters and the restaurant's owner continued for nearly 45 minutes until the police officers present said that those in attendance would be arrested if they didn't leave the property.
At Woods' insistence, protesters left the Pizza Peel and stood on the sidewalk outside as Woods and Bigham continued their discussion inside in private. Woods would emerge 15 minutes later, concluding the night without any arrests.
It doesn't appear, however, that tonight's talk offered any concrete resolutions. As the protesters, again led by Woods, walked away from the restaurant, WSOC reporter Joe Bruno asked Woods, "Will you be back?"
Rain began to fall harder as Woods nodded, "With hundreds more."