Terrariums
Linda Barnett's tiny terrariums make a big statement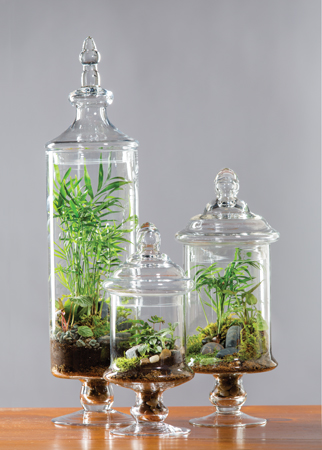 Terrariums just might be the perfect gardens: they're beautiful and easy to care for, and they thrive on neglect—making them a great option for frequent travelers or would-be gardeners with black thumbs.
"I think of them as a glimpse—a photograph in your mind—of the perfect spot in the woods," says Linda Barnett of Exceptional Terrariums. She creates miniature botanical gardens in her home studio in Concord, selling them online and at Atherton Market in South End on Tuesdays and Saturdays.
Barnett says her terrariums, which contain moisture- and shade-loving plants such as ferns, moss, lichens, and bromeliads, typically need only to be gently watered every six months.
Prices range from $15 to $120.